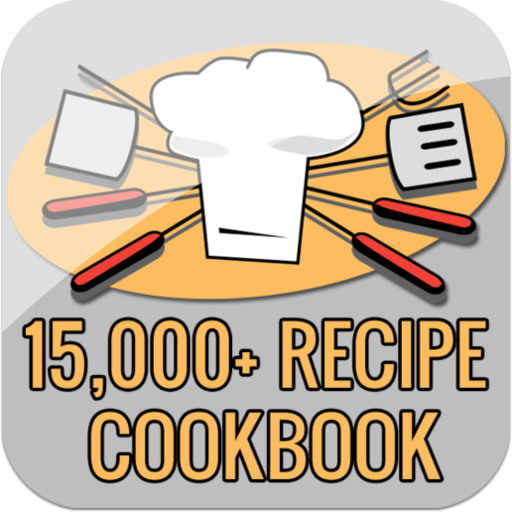 15,000+ Recipe Cookbook
App details
Product ID
XPFPDZ992GQSQG
About 15,000+ Recipe Cookbook
Get access to a huge collection of over 15,400+ delicious recipes. This cookbook app is full of almost any type of food that you can think of.
There is an easy to use search function and recipes are broken up into categories. Recipes can be favorited and emailed for easy sharing.
Recipe Categories Included:
*Quick and Easy recipes for breakfast, lunch, snacks, and dinner ideas. So fast some of these recipes can be made in the microwave.
*Simple & fun recipes that even kids can do.
*Atkins (900+) - Low Carb and healthy meals, great for anyone on a diet.
*Delicious Diabetic Recipes (500+).
*Summer & Grill recipes - Kabobs, Skewers, Barbecue Sauce, Ground Beef, Grilled Pork chops, Steaks and so much more!
*Beef Jerky and Venison Recipes.
*Chicken Recipes - Anything from BBQ and baked to fried.
*Wings Recipes.
*Traditional Old Fashioned Amish Recipes.
*Southern & Country Style Recipes.
*Camping Recipes - If you love to cook outdoors then these recipes are for you everything from s'mores to baked beans cooked on a campfire.
*Candy and Scrumptious recipes for Chocolate lovers: Fudge, Truffles, Brownies.
*Dessert - Best recipes for baking a variety of cakes, cookies, cupcakes, cheesecakes, pies and puddings.
*Fair and 490 Award Winning Recipes Blue Ribbons recipes.
*Eggs - Whether you like them scrambled or in an omelet I'm sure you haven't thought of even half of these egg recipes.
*Sandwich - Gourmet sandwichs like pitas and paninis.
*Salads - Anything from Tuna to a Beef Taco Salad.
*Italian - Pasta, Lasagna, Spaghetti and Meatballs (Oh My!).
*Pizza - 200+ pizza ideas, including classics like sausage, pepperoni. Plus recipes for dough and sauce.
Holiday Recipes for:
*Thanksgiving - From classic turkey dishes, to almost any type of potato food you can think of.
*Christmas - Eggnog, christmas cookies, etc…
*July of 4th for hotdogs, hamburgers, corndogs, and sloppy joes etc…
*Valentine's day for romantic dinners.
*Delicious Homemade Ice Cream Recipes - Make your own frozen yogurts and sorbets. From regular and low calorie to sugar free and non-dairy.
*Smoothie Recipes - Creative and different varieties of healthy and yummy smoothies. From mango, banana, strawberry to cucumber mint.
*Fruit recipes for Apples and Oranges.
*100+ Lip smacking good Jam Recipes.
*Punch Recipes - Want to make a refreshing beverage for a party? There are 400+ punch and drink recipes available.
*Crock pot (400+) - Slow Cooker recipes great for stews.
*Fryer Recipes.
*Bread Machine - Got a bread machine? Well then we have 100+ simple bread recipes for you.
*Cajun, Fish, and Seafood (1000+) - Top Recipes of Crawfish, Salmon, Codfish, Mackerel, Lobsters, Oysters, Crabs, Shrimp, Clams, Scollops, Chowder etc…
*Soup & Vegetable Recipes.
*International - (1000+) Recipes from around the world, everything from African to Indian curry.
*Chinese Recipes - Succulent recipes from noodle, fried rice, stir-fry to won tons.
*Salsa, Chili and Dip Recipes.
You get so much with this app that its impossible to list it all!
Key features
Separated into Categories