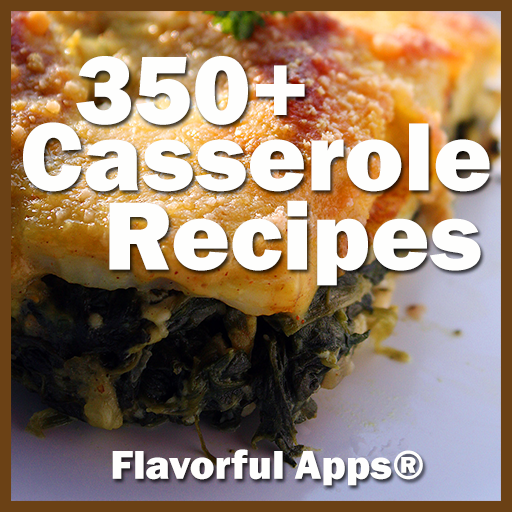 350 Flavorful Casserole Recipes
App details
Product ID
XPFCV8D4G9CG4H
About 350 Flavorful Casserole Recipes
Flavorful Casserole Recipes!
Super easy to use cooking app that features 350+ recipes for casseroles.
The recipes are searchable by name and searchable by ingredient, allowing you to build an exciting menu around the food items that you have on hand.
All recipes are in both USA Standard (teaspoon, cup, ounces, etc) and also in metric weights (milliliter, grams, etc).
This application offers over 350 tested casserole recipes that are all categorized within the main menu for easy navigation and access:
Breakfast casserole recipes for Eggs Benedict Strata, Mexican Chorizo and Migas Casseroles, Breakfast Lasagna, Bacon and Egg Casserole, Grits and Sausage Casserole, and more.
Hearty beef casseroles like Beef and Noodle Casserole, Beef and Pineapple Casserole, Baby Back Ribs Casserole, Chilli Pie Casserole, Corned Beef and Cabbage Casserole, Pot Pie Casserole, and many more to choose from.
Tasty chicken dishes such as Chicken and Dumpling Casserole, Chicken and Reice Casserole, Chickn COrdon Bleu Casserole, Chipolte Chicken Casserole, King Ranch Chicken Casserole and many more.
Flavorful pork recipes like Hawaii Ham Casserole, Sausage Caseroles, Mexican Pork Casseroles, Tenderloin Casseroles plus others.
Fish and Seafood recipes such as Salmon Casseroles, Tuna Casseroles, Shrimp Casseroles and more.
Exciting specialty recipes for German Casserole, Shipwreck Casserole, Spinache Noodle Casserole, Chinese Noodle Casserole, just to name a few.
Easy Slow Cooker dishes like Jambalaya, Enchiada Pie, Fettccine Casserole, Ratatouille, Raviolo Casserole and others.
Healthy Vegetable recipes for Spinach and Artichoke Casserole, Squash Casserole, Broccoli and Cheese Casserole, Potato and Pepper Casserole, Beans and Rice Casserole and others.
All in one searchable application.
Please remember to try our other food specialty apps!
Key features
* Search recipes by ingredient tool has been included.