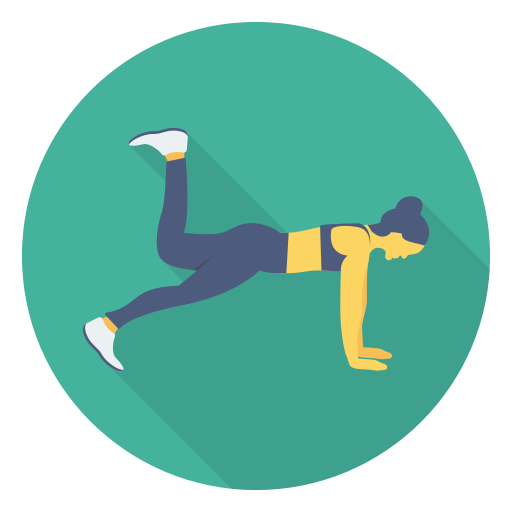 Abs Workouts & Fitness For Women
App details
Product ID
XPDNVN4PXTZNG4
About Abs Workouts & Fitness For Women
We prepare a systematic 30-day workout plan for your daily exercises and along with that perfect diet plan as well for 30-days so what else do you need to start. These exercises will help you burn calories, tone your stomach and trim your waistline.
After 30 days, you will notice a change in the shape of your abs. You'll get a sexier body, and build self-confidence.
Belly fat covers your abs and harms your health. It can raise the risk of high blood pressure, cancer, and other diseases. Experts have pointed out that aerobic exercises help in burning calories and boosting the metabolism. Try the aerobic exercises in this app to get rid of the annoying belly fat and improve your health.
We have prepared systematic and scientifically-proven workout plans to help you lose belly fat and get a flatter stomach in a simple and fun way. No equipment or coach needed, you can easily do the belly workout at home or anywhere, anytime.
Why choose this workout app Abs Workouts & Fitness For Women?
100% free! No hidden charges!
Quick and effective workouts maximize fat burning.
Requires no equipment. Burn belly fat, lose weight and stay fit with just your body weight.
Abs workout exercise designed by experts.
Suitable for both beginner and pro.
Beginner friendly.
Animation and video guidance just like your personal workout trainer.
Track your weight loss progress.
Daily workout tracker to track burned calories.
Customized workout reminders remind you to tone your stomach.
Health tips help you develop a balanced diet for weight loss and good health.
Stomach workouts, belly fat exercises, ab workouts, and core workout aimed to bring you a flat tummy and a good figure.
Do these abs workout exercises 10 minutes a day to burn belly fat and achieve your goal of having a flat tummy.
Stop wasting your time with those useless methods. Download Abs Workouts & Fitness For Women for free and start working out at home to burn fat, tone your belly, lose weight and build muscle faster. You'll have beach-ready abs in no time!
Key features