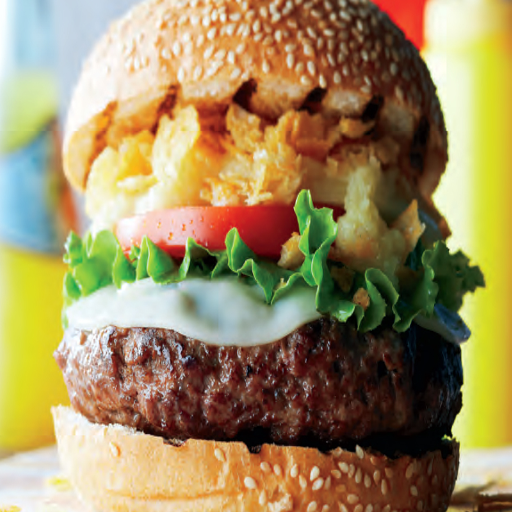 Burger Recipes - Collection of Tasty Video Recipes
App details
Product ID
XPFM98B7XN0L0V
About Burger Recipes - Collection of Tasty Video Recipes
Looking for the best, most delicious burger recipes? YOU'VE FOUND IT RIGHT HERE!
That's because everything you need to make the juiciest, tastiest hamburger is right here in this Burger Recipes app…and it's FREE!
With this detailed and robust Burger Recipes app, not only will you find delicious recipes for the most succulent burgers you'll ever have, but you'll also find many recipes broken down into convenient categories.
What kind of burger do you want tonight? From beef to chicken, lamb to salmon, we've got it all. Are you a vegetarian? No problem! We've got several vegan burgers and veggie burgers, from black beans to mushrooms and more. Video recipes will show you exactly what to do, and Daily Recipes will give you brand new hamburger recipes EVERY DAY!
Burgers are the staple food of any outdoor gathering, and you can make the event extra special by serving sandwiches with a twist. These culinary delights will have everyone's mouth watering and talking about the delicious treats you cooked up.
This FREE Application answers the following questions,
Unique And Amazing Burger Recipes
Who says a cheeseburger can't be fancy? Our Gourmet Burger recipes prove otherwise!
There is something about the classic burger that never gets old. Let's face it: it's the ultimate family-pleasing meal! With these hamburger recipes in your pocket, you'll never have to settle for mediocre burgers again! New and exciting burger recipes are just a FREE download away!
Grab the FREE copy of the Burger Recipes app today!
Disclaimer - All logos/images/names are copyright of their perspective owners. This image is not endorsed by any of the perspective owners, and the images are used simply for aesthetic purposes. No copyright infringement is intended, and any request to remove one of the images/logos/names will be honored. This application is an unofficial fan based application. The content provided in this app is hosted by YouTube and is available in public domain. We do not upload any videos to YouTube. This app provides an organized way to browse and watch YouTube Videos.
Key features
Simple ingredients make for simple preparation

A great way to include vegetables as part of your meal

Cooking all ingredients in one stovepot couldn't be easier

Ingredients are typically inexpensive, so your meal won't be a budget buster

Best of all - it tastes GREAT!