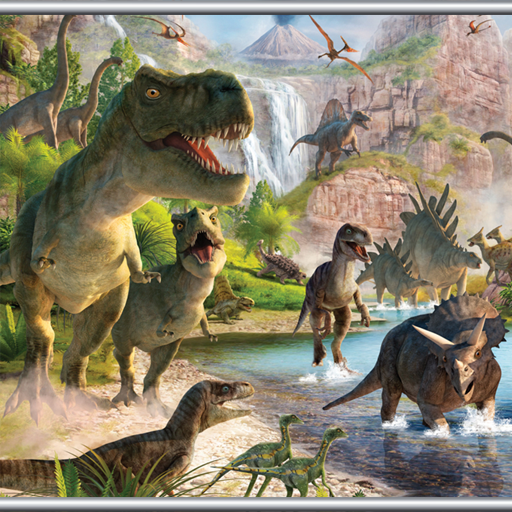 Dinosaur Sounds
App details
Product ID
XP8LWG9MRF5KD2
About Dinosaur Sounds
Dinosaur Sounds app is a fantastic compilation of best dinosaur ringtones that you can use on your Android™ phone and tablet. Hear what these extinct animals could've sounded, but know that no one actually knows the noise dinosaurs made…it's only from the perspective of a science fiction! Anyway we gave our maximum to complete this cool dino app especially for you. It contains loud ringtones of dinosaurs, includes some of the most famous dinosaur species like tyrannosaurus rex, triceratops, brontosaurus, velociraptor, seismosaurus and more. Use your chance, step into jurrasic world, set T-Rex roar as sms, notification or ringtone and surprise your friends with the unique sound.
New ringtones, best notification sounds and popular alarm tones are what this app has to offer you. You can change tones every day and have hot melodies on your cell or tablet all the time. After you explore and listen all tunes, you have an additional option to place favourite ones in the favorite folder so you can enjoy them later. If you like these free sounds there is also an option to share app with your friends and family through popular social networks, email or sms, or simply you can just use your headset to enjoy cool ringtones. Use "More apps" button at the bottom of the main menu to check out our other great ringtone apps and personalize your android device's sounds even more. Download app for free and enjoy ringtones.
Features: top 40 high quality ringtones; top 50 notification sounds & sound effects; set your default ringtone, notification, sms or alarm; set your favourite ringtones; assign cool ringtones to your friends and family;
Interesting fact about dinosaurs - Dinosaurs are a diverse group of animal species of the clade Dinosauria. They first appeared during the Triassic period, 231.4 million years ago. Although the word dinosaur means "terrible lizard", the name is somewhat misleading, as dinosaurs are not lizards, instead, they represent a separate group of reptiles. Since the first dinosaur fossils were recognized in the early 19th century, mounted fossil dinosaur skeletons have been major attractions at museums around the world, cause paleontology and dinosaurs have become an enduring part of world culture.
Last but not least , application has been tested on many devices to ensure the best possible user experience. If you have any difficulties do not hesitate to contact us so we can correct it in the next update. Wish you all the best and lot lot of fun.
Key features
Features: top 40 high quality ringtones; top 50 notification sounds & sound effects; set your default ringtone, notification, sms or alarm; set your favourite ringtones; assign cool ringtones to your friends and family;