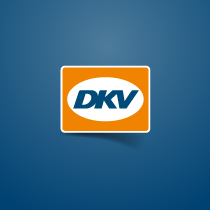 DKV App
About DKV App
Pretty smart: the new DKV App
Find european-wide or in your immediate surroundings all DKV stations including Prices* in EURO or alternatively in the local currency. Alternatively, search for all DKV vehicle service stations.
Each DKV station provides extensive detail information, frequently used DKV stations or even whole searches can be stored as favorites and reuse easily during the next search.
Comprehensive filter options tune the station search optimally to your needs. For instance, limit your search to specific brands or additional services.
In case of breakdown, emergency or loss of your DKV CARD just get connected with the right contact person directly out of the DKV App.
A separate news section informs about the latest closures or news about DKV Euro Service.
For more information on our extensive range of services please visit http://www.dkv-euroservice.com/
DKV. You drive, we care.
In Germany now with the current prices of market transparency agency for fuels (MTSK)
Key features