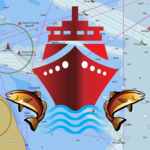 i-Boating:Marine Navigation Maps & Nautical Charts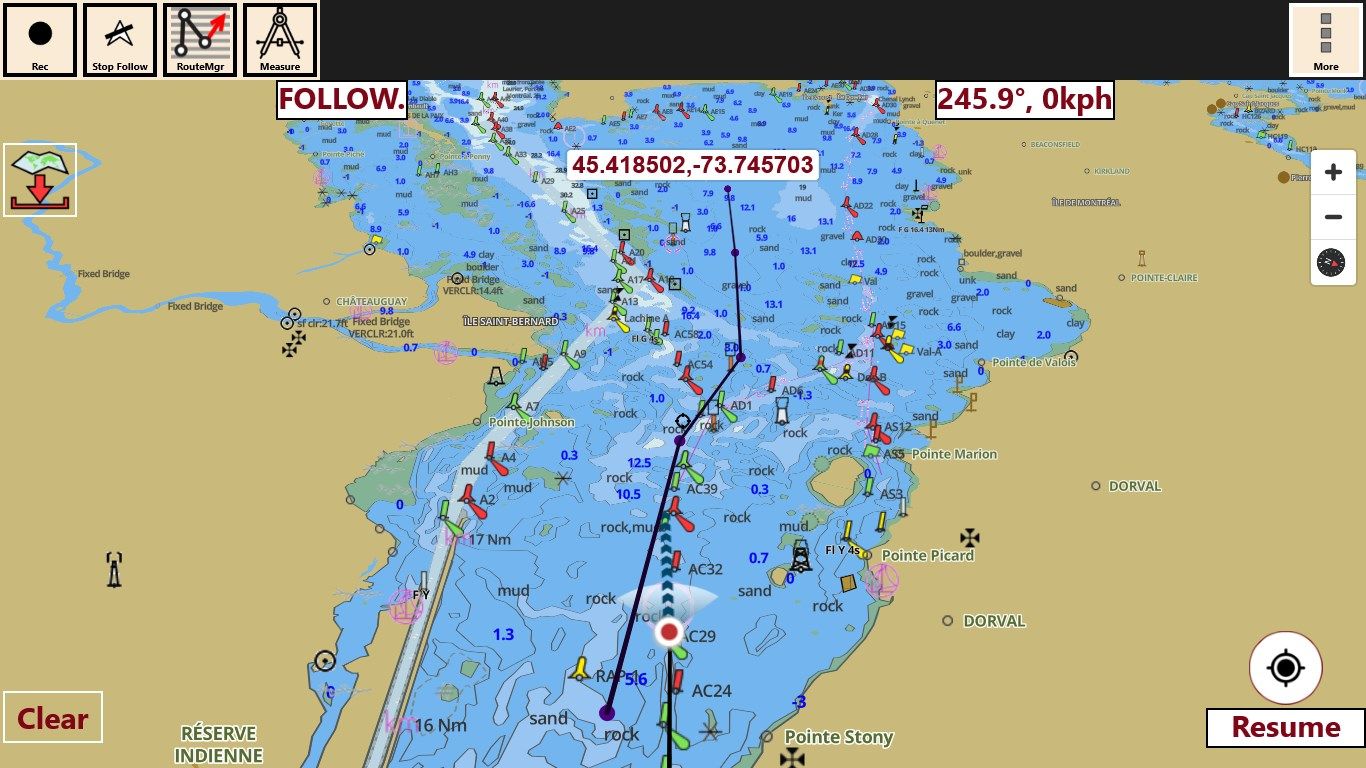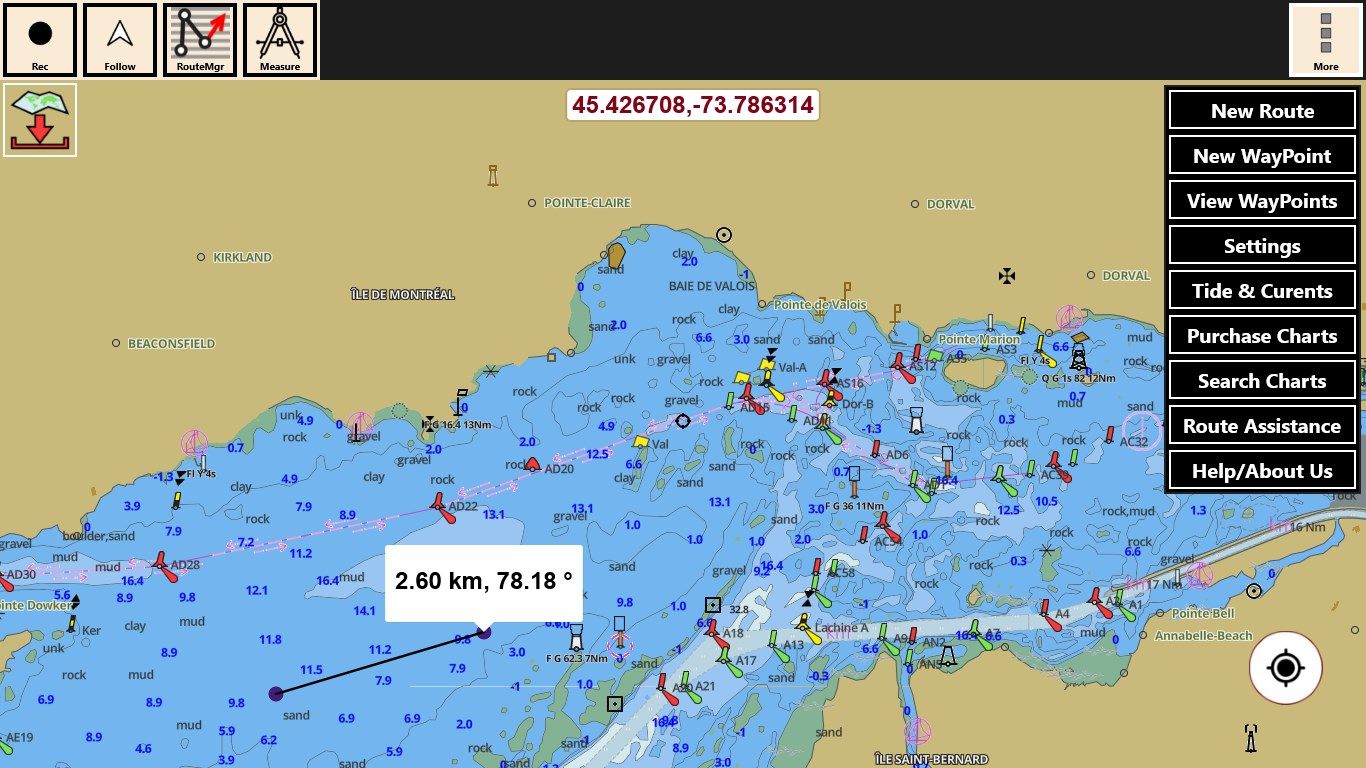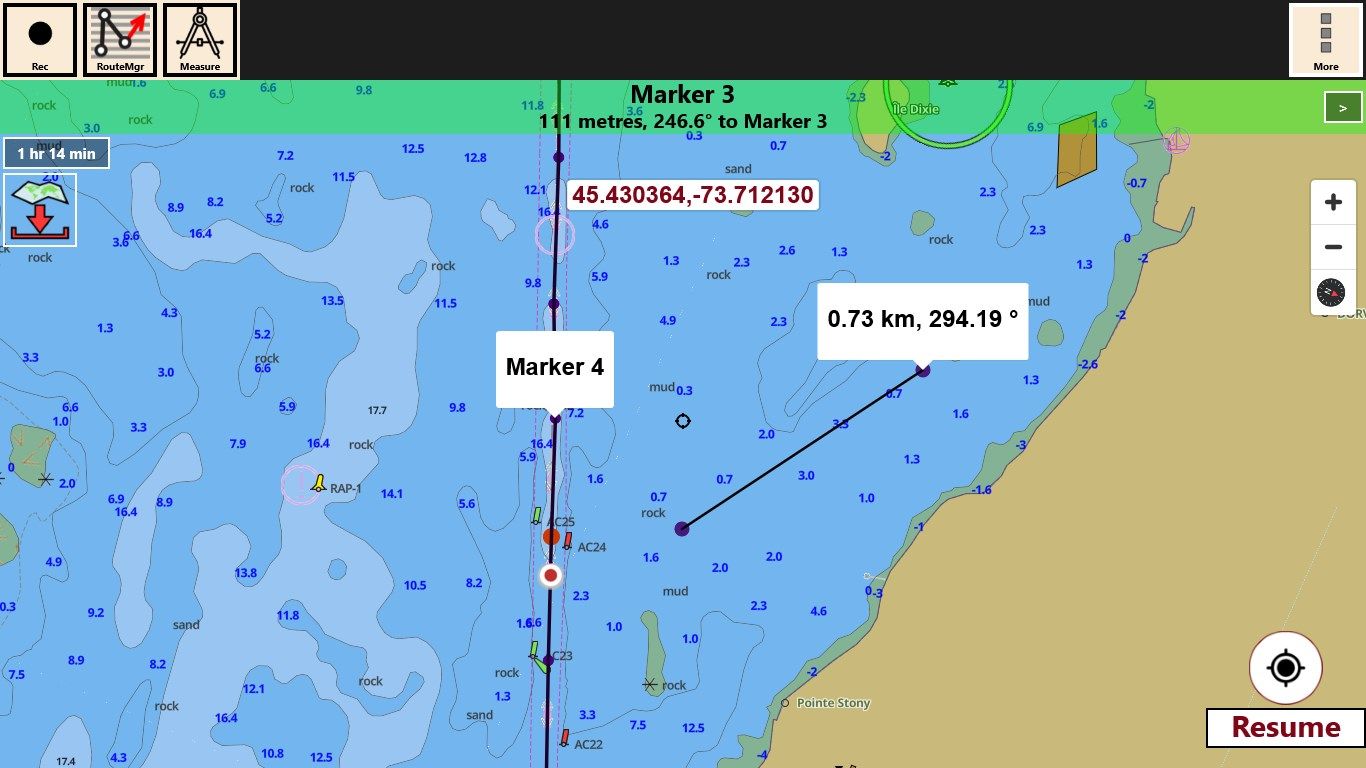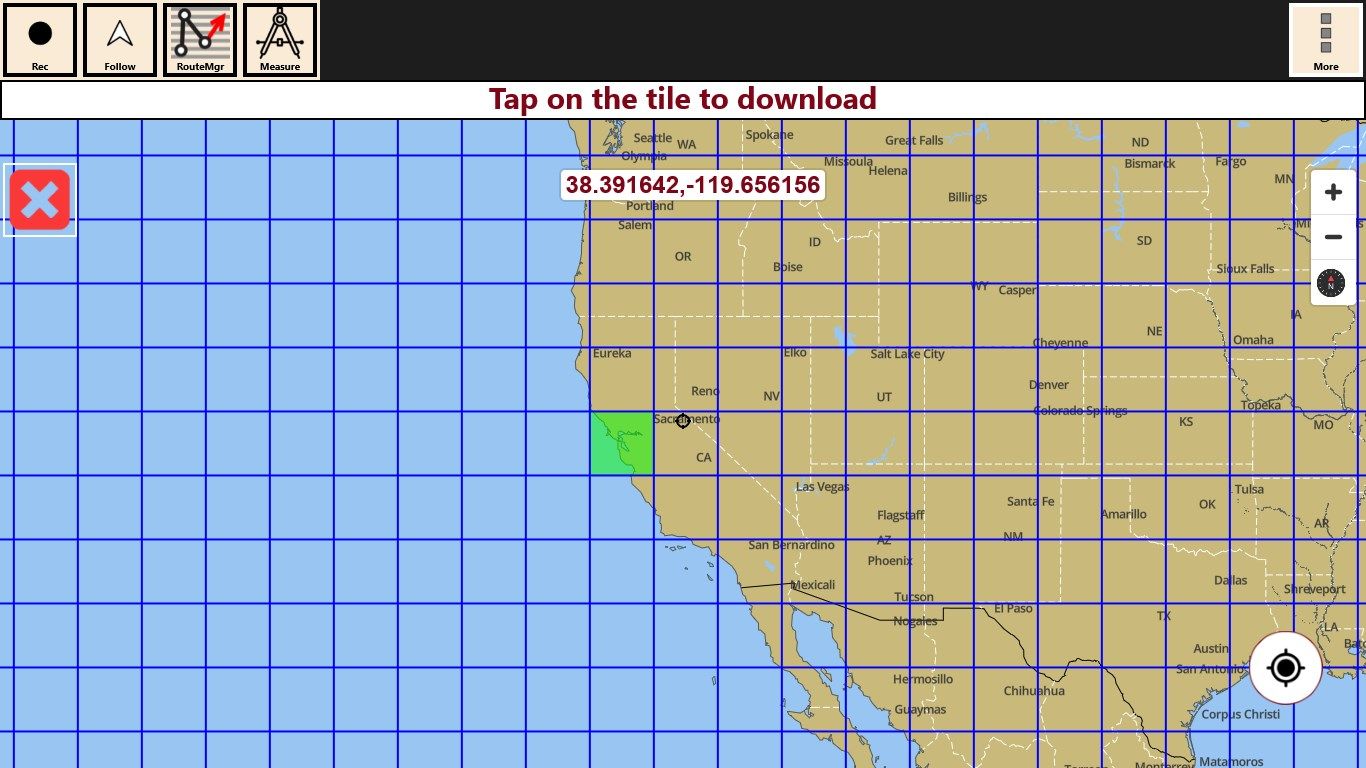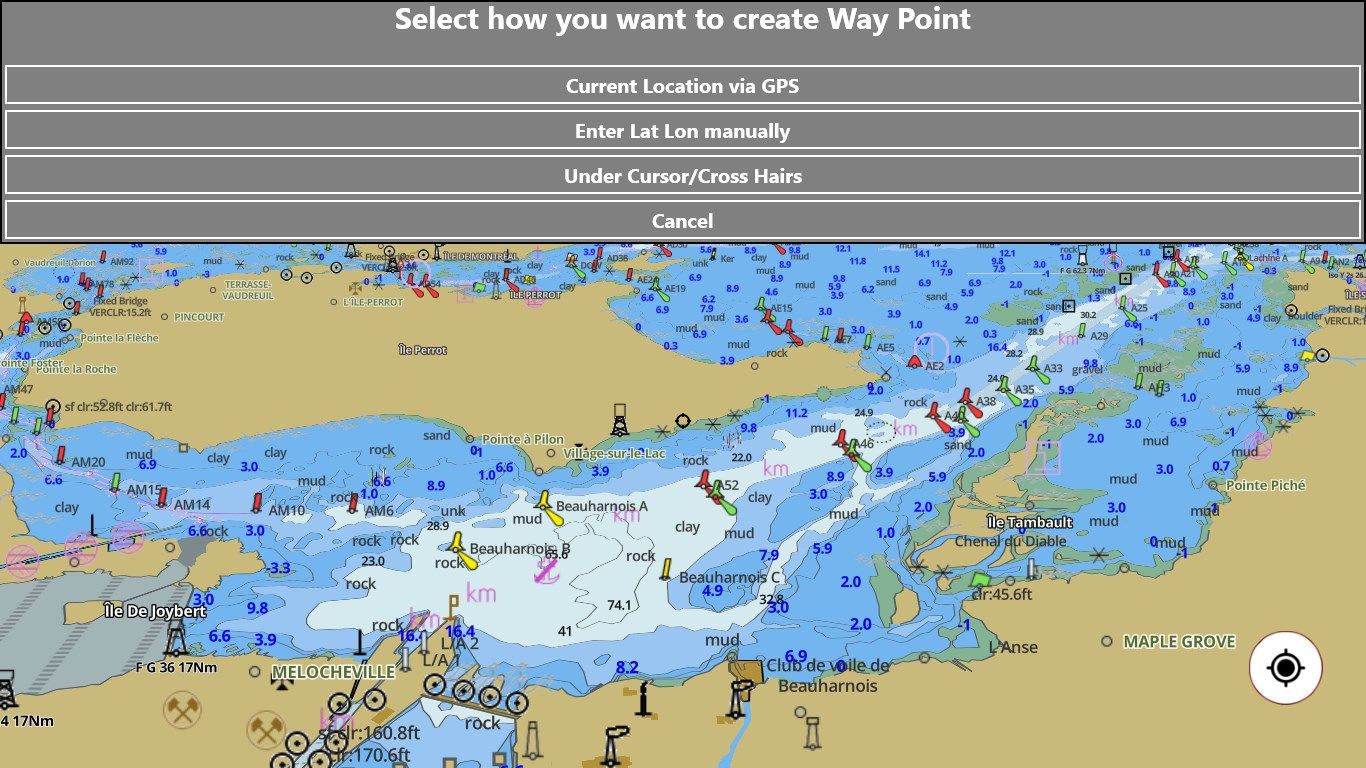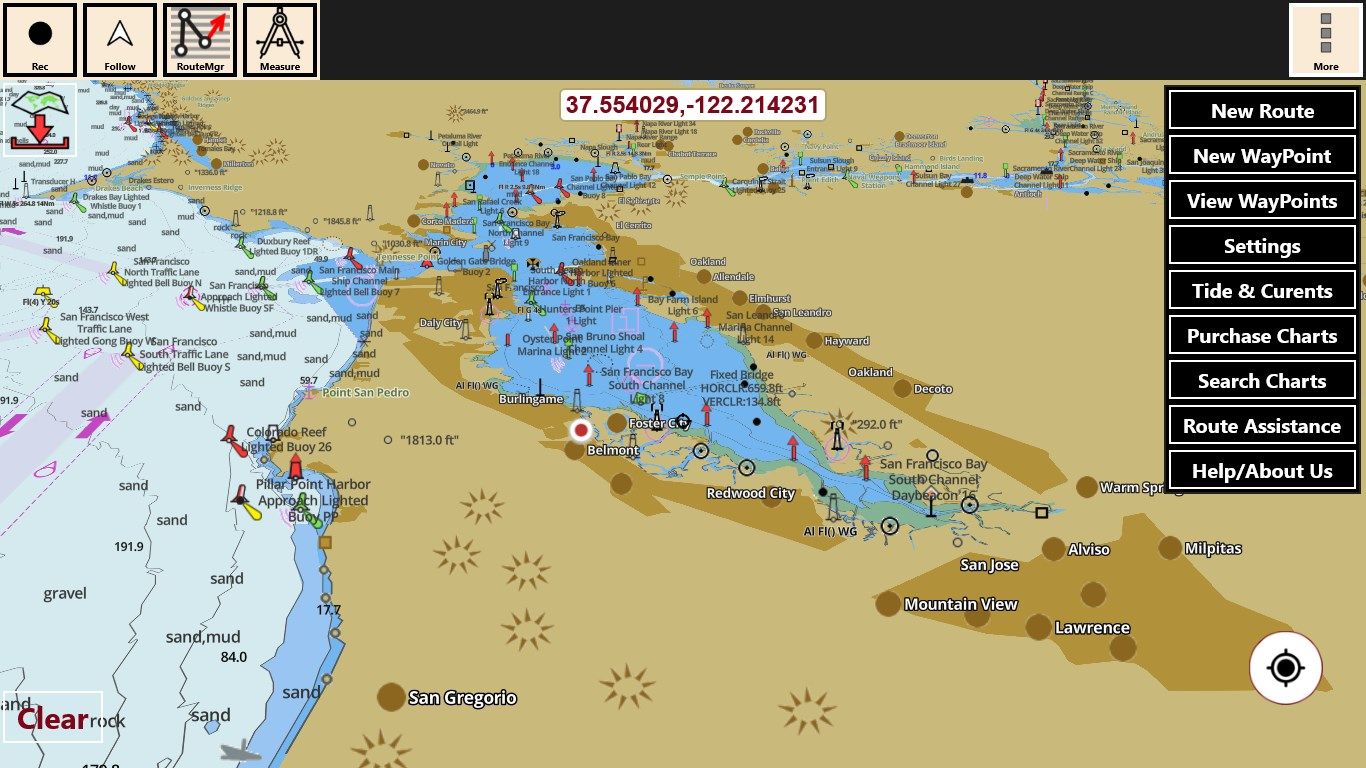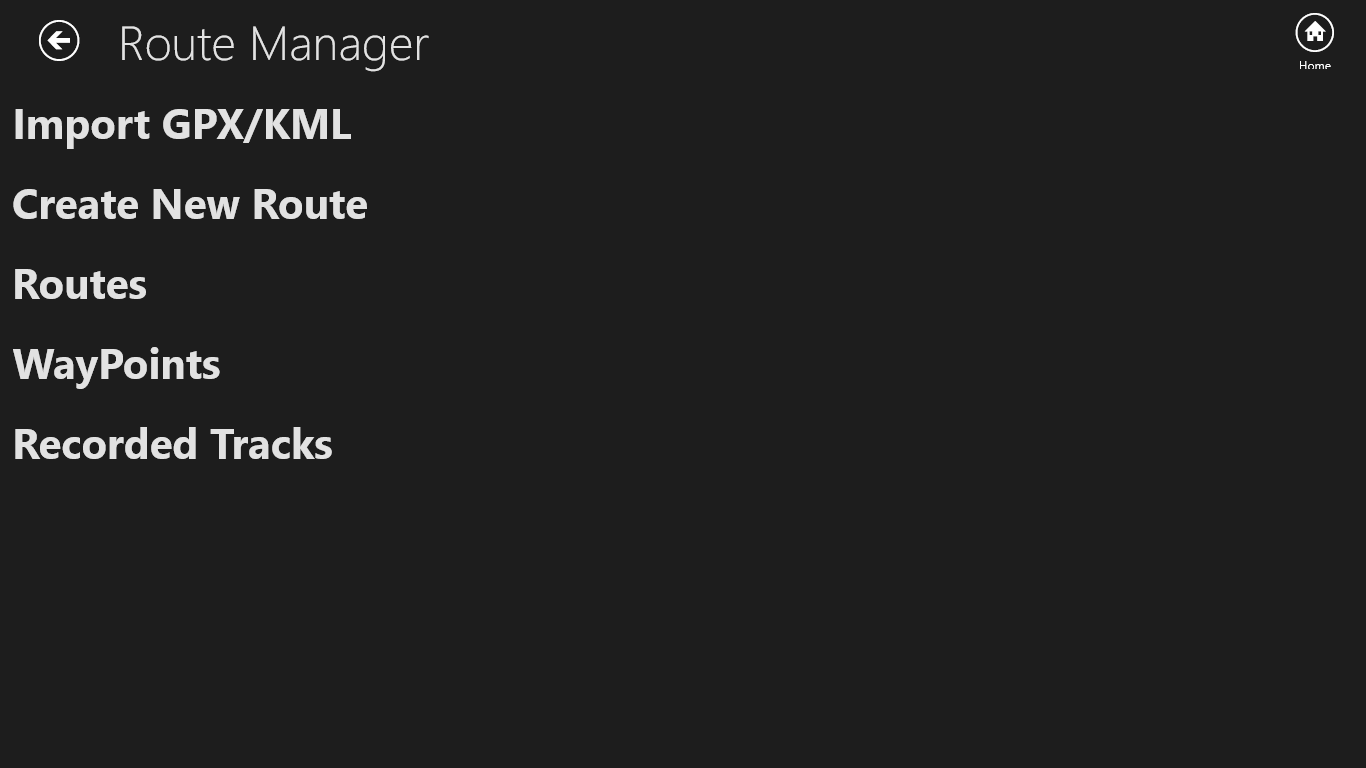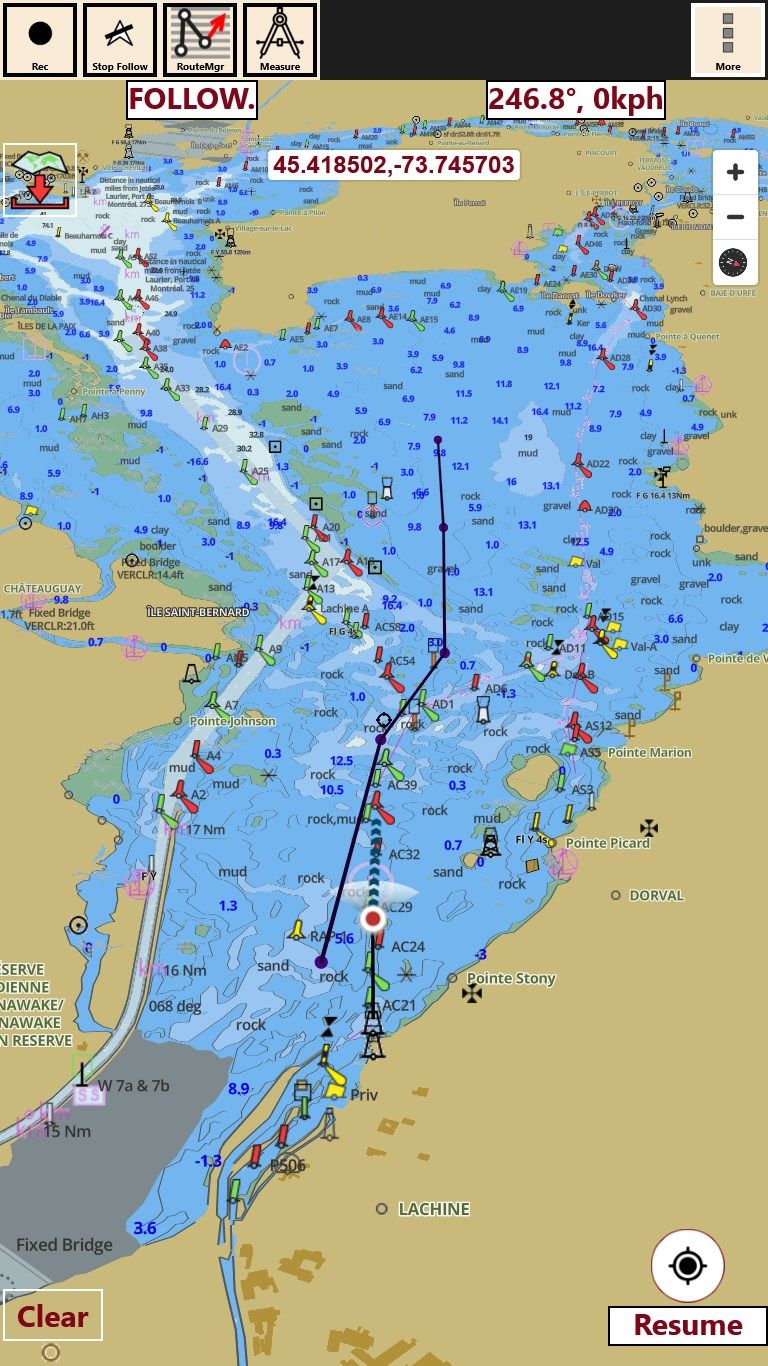 About i-Boating:Marine Navigation Maps & Nautical Charts
This App offers offline nautical charts, lake & river navigation maps for fishing, kayaking, boating, yachting & sailing. Marine navigation coverage includes marine vector charts, freshwater lake maps, and inland river maps (HD/1ft/3ft bathymetry fishing maps included where available). First marine GPS app to have route assistance for marine navigation. You can create new boating routes or import existing GPX/KML routes. It supports Nautical Charts course up orientation. Includes Tide & Currents prediction.
►FEATURES
√ Download Beautiful & detailed Hardware/GPU accelerated vector charts (text stays upright on rotation)
√ Query details of Maritime object (Buoy, Lights, Obstruction etc).
√ Custom depth(Ft/Fathom/Meter) & distance units (km/mi/NM)
√ Custom depth shading (safety depth).
√ Record tracks, Autofollow with real-time track overlay
√ Voice Prompts for marine navigation (requires GPS )
√ 1ft / 3ft depth contour maps for anglers for selected lake maps. Useful for fishing/trolling(freshwater/saltwater).
√ Supports GPX/KML for boating route editing/import.
√ Tide & Currents.
√ Seamless chart quilting. Map details from Coastal, Approaches,Harbour, Inland Encs(rivers), and general ENC (Electronic Marine Charts) mapped to right zoom
√ Enter/import Waypoints.
► MAPS
Get all the details that you find in your chartplotters!
Includes unlimited updates for 1 year.
USA: Maps incl coverage of all NOAA ENC,USACE inland river maps & freshwater lake fishing maps for more than 7K lakes. Charts include HD/1ft/3ft bathymetry where available. Also incl NOAA raster charts for areas where NOAA ENC coverage isn't available.
Canada: CHS data including rasters for some regions. Incl Great lakes(US & Canada sides),Alberta & Ontario lakes,Lake Simcoe&Trent Severn Canal.
UK/Ireland: UKHO charts
Germany:BSH charts,Waterways & rivers.
France
Europe Inland Rivers:Donau/Danube/Dunaja,Rhine,Rhein,Garonne,Moselle,Drava,Sava
Australia
Netherland/Holland
Croatia
Finland
Norway
Sweden
Russia,
Ukraine(Black Sea)
Brazil
Spain
Malta, Cypress & S. Mediterranean Sea
Caribbean
New Zealand
Denmark,Greenland,Faroe
Seychelles,Mauritius,Tanzania
Falklands,
Malaysia, South China Sea,
Persian/Arabian Gulf,Red Sea
South Africa,
Argentina,
Iceland,
Fiji,
Estonia,Latvia
Turkey,Greece,Italy
►ROUTE MANAGEMENT / TRIP PLANNING
√ Create New Route/Edit Routes
√ Reverse Routes
√ Enter,Move, Add, Delete, Rename Waypoints
√ Import GPX, KML & KMZ files
√ Plot/Edit Routes
√ Share/Export Routes, Tracks & Markers
►GPS FEATURES
√ Auto Follow
Real Time Track Overlay
Predicted Path Vector
Course Up (Text stays upright)
Speed & Heading
√ Route Assistance With Voice Prompts
Prompts when approaching a boating route marker
Continous distance & ETA updates
Alerts when sailing/boating off route
Alerts when boating in wrong direction
√ Record Tracks
►TIDE & CURRENTS
For US, Canada, UK, Germany & New Zealand
High/Low Tides
Tidal Current Prediction
Active Current Stations
► SHARING
Share tracks/routes/markers on Facebook & Twitter
Export tracks/routes/markers as compressed GPX files.
Sample Nautical Charts (See http://gpsnauticalcharts.com/main/folio-catalog-nautical-charts-app for complete list)
…
USA:
Texas lakes: Eufaula, texoma
Florida lakes: Okeechobee
Massachussets lakes: Quabbin
Wisconsin Lakes: Winnebago
Minnesota lakes- Minnetonka, Waconia,Leech,Mille Lacs
Maine: Sebago
Alaska:
Winnipesaukee, Ontario, Huron, Erie, Michigan, Superior
TAMPA BAY
CHESAPEAKE BAY CAPE CHARLES-NORFOLK HARBOR
ANCLOTE KEYS-CRYSTAL RIVER
MIAMI HARBOR
Keowee,Jocassee,Hartwell,Greenwood,Lake Murray
Rainy Lake
Quebec to Anticosti Island West
Gulf of St. Lawrence South
Newfoundland East & South
Great lakes Canada & St. Lawrence river
Manitoba & Saskatchewan
Georgian Bay
Gulf of St. Lawrence North-Newfoundland West
Puget Sound
north sea
pacific ocean
KEY WEST-MISSISSIPPI
SAN PEDRO
LAKE MICHIGAN STONY LAKE-POINT BETSIE
APALACHICOLA BAY-CAPE SAN BLAS
MONHEGAN ISLAND-CAPE ELIZABETH
SAN FRANCISCO
MIAMI-MARATHON
BLACKBURN
HURON
TAHOE
Canada :
Lac Saint Jean
Ontario Lakes
Rideau Canal- Ottawa River
British Columbia
Pacific Coast- Vancouver- Haida Gwaii
Nova Scotia South- Bay of Fundy
United Kingdom / Ireland:
BRISTOL CHANNEL & SOUTH IRELAND
ENGLAND S COAST & SCILLIES
IRELAND W C-KENMARE R-FORELAND
IRISH SEA
N&E SCOTLAND-LEWIS-FORTH-N ISLES
NORTH SEA-FORTH-THAMES ENTRANCE
SCOTLAND KINTYRE-LOCH BROOM
THAMES-MEDWAY & APPROACHES
Popular charts/Folios:
Rainy Lake and Lake of the Woods
Quebec to Anticosti Island West
Gulf of St. Lawrence South
Ontario Lakes
Trent-Severn Waterway
Labrador Coast
Lac Saint Jean
Rideau Canal - Ottawa River
Georgian Bay
Newfoundland East and South
Great lakes Canada and St. Lawrence river
Lakes and Rivers in Manitoba and Saskatchewan
Lakes and Rivers of British Columbia
Pacific Coast - Vancouver Island East & West - Haida Gwaii
Lakes around Georgian Bay
Gulf of St. Lawrence North - Newfoundland West
Alberta Lakes
Nova Scotia South - Bay of Fundy
GULF OF MEXICO
GENERAL CHART OF THE GREAT LAKES
CAPE SABLE TO CAPE HATTERAS
STRAITS OF FLORIDA AND APPROACHES
KEY WEST TO THE MISSISSIPPI RIVER
CAPE CANAVERAL TO KEY WEST
CAPE HATTERAS TO STRAITS OF FLORIDA
NORTH PACIFIC OCEAN EASTERN PART
HAVANA TO TAMPA BAY
LEASE BLOCK FOR HAVANA TO TAMPA BAY
WEST QUODDY HEAD TO NEW YORK-EAST COAST
MEXICAN BORDER TO DIXON ENTRANCE
NEWPORT TO BERMUDA
NANTUCKET SHOALS TO FIVE FATHOM BANK
HAVANA TO TAMPA BAY
ESTERO BAY-LEMON BAY INCL. CHARLOTTE HARBOR
CHESAPEAKE BAY EASTERN BAY AND SOUTH RIVER
TAMPA BAY AND ST JOSEPH SOUND
TAMPA BAY - PORT RICHEY TAMPA BAY - CLEARWATER HBR
FORT MYERS TO CHARLOTTE HARBOR and WIGGINS PASS
SANDS KEY TO BLACKWATER SOUND
CHEASAPEAKE BAY COVE POINT TO SANDY POINT
CHESAPEAKE BAY SANDY PT TO SUSQUEHANNA RIVER
ANNAPOLIS HARBOR
CHARLESTON LIGHT TO CAPE CANAVERAL
INTRACOASTAL WATERWAY MIAMI TO ELLIOTT KEY
CAPE MAY TO CAPE HATTERAS
CHARLOTTE HARBOR TO TAMPA BAY
CHESAPEAKE BAY SEVERN AND MAGOTHY RIVERS
TAMPA BAY NORTHERN SECTION
MIAMI HARBOR
FORT MYERS TO CHARLOTTE HARBOR and WIGGINS PASS
TAMPA BAY TO CAPE SAN BLAS
FOWEY ROCKS TO AMERICAN SHOAL
CHESAPEAKE BAY - MARYLAND CHESTER RIVER
CHESAPEAKE BAY CHOPTANK RIVER AND HERRING BAY
KENT ISLAND NARROWS
Vancouver Island\Ile de Vancouver, Juan de Fuca Strait to\a Queen Charlotte Soun
Strait of Georgia, Southern Portion\Partie Sud
Lake Ontario\Lac Ontario
LAKE SIMCOE
Strait of Georgia, Central Portion\Partie Centrale (Part 1 of 2)
Strait of Georgia, Northern Portion\Partie Nord
Georgian Bay \ Baie Georgienne
Strait of Georgia, Central Portion\Partie Centrale (Part 2 of 2)
North Pender Island to\a Thetis Island
Thetis Island to\a Nanaimo
Juan de Fuca Strait to\a Strait of Georgia (Western Portion, Part 1 of 2)
Howe Sound
Active Pass
Nanaimo Harbour and\et Departure Bay
Approaches to\Approches a Vancouver Harbour
Haro Strait, Boundary Pass and\et Satellite Channel
Vancouver Harbour, Western Portion\Partie Ouest
Telegraph Harbour and\et Preedy Harbour
Ganges Harbour and\et Long Harbour
Dodd Narrows to\a Flat Top Islands
Baynes Sound
Approaches to\Approches a Sidney
Desolation Sound and\et Sutil Channel
Porlier Pass
Fraser River\Fleuve Fraser, Strait of Georgia to\a Mitchell Island
Fraser River\Fleuve Fraser, Sand Heads to\a Douglas Island AB
Secret Cove and\et Smuggler Cove
Race Rocks to\a D'Arcy Island
Roberts Bank
Bedwell Harbour to\a Georgeson Passage
Montague Harbour
Pender Harbour
Fulford Harbour
Sansum Narrows
Welcome Passage
Vancouver Harbour, Central Portion\Partie Centrale
Shoal Channel
Approaches to\Approches a Nanoose Harbour
Jervis Inlet
English Channel
British Isles
The Solent and Southampton Water
English Channel Central Part
Irish Sea with Saint George's Channel and North Channel
British Isles
Anvil Point to Beachy Head
Saint George's Channel and Bristol Channel
Cowes Harbour and River Medina
Southampton Water
Solent
A Beaulieu River
Scotland West Coast
Bill of Portland to the Needles
River Medina Folly Point to Newport
Portsmouth Harbour
Langstone and Chichester Harbours
B Port Hamble to Bursledon
Start Point to The Needles including Off Casquets TSS
Poole Harbour
Newtown River
Irish Sea
Poole Bay
Wootton Creek
River Hamble
Lymington River
Portsmouth
Yarmouth Harbour
Fareham Lake
Sandown Bay
Hillhead Harbour
Bembridge
Thames Estuary
Suomi:
Norge:kysten Bergen Narvik Florø Risør Oslo
Spain:
Brazil:MACAU, SALVADOR, RIO, JANEIRO, BARIRI, ITARIRI,Santos, Cabo, Frio
Ukraine(Black Sea):Bilhorod-Dnistrovsky Seaport,Illichivsk,Odessa,Yevpatoriya,Mykolaiv,Oktyabrsk,Kherson,Sevastopol,Skadovsk,Feodosiya,Yalta
Caribbean:Antigua,Castries,Gustavia,Esquivel,Freeport,Kingston Harbour,Nevis,Port Kaiser,Crooked Island Passage& Exuma Sound,Salt River Anchorage,Speightstown incl. Arawak Jetty,Cuba to Miskito Bank,Basseterre Bay,Bullenbaai,Fuik Baai,Groot Baai,Marigot Harbour,Dominica,Rio Bueno,Scarborough
Malta:Ghawdex(Gozo)-Kemmuna,Marsaxlokk,Valletta
New Zealand:Tauranga,Lyttelton,Napier,Otago,Wellington
Key features
Download charts for offline use

Auto Follow mode with Real time track overlay and Course Up Orientation.

Import GPX/KML routes (Import existing files on device via Open With App)

Route Editing/Creation (Plot routes from scratch or edit existing ones).

7000+ fresh water lake depth maps, Offline access to NOAA marine charts, charts covering major rivers

Export / Share GPX tracks with friends via email.

Route Assistance (Incl. Continuous distance and ETA updates, alerts for going off route or wrong direction)

Tidal Height & Tidal Current Predictions

Create Way Points - Enter latitude longitude manually, via GPS or a specific point on map

Seamless chart quilting (GPS accurates charts projected to WGS84 datum).

Incl. AMELIA,WOODS HOLE,ROSARIO STRAIT,CHERRY POINT,POCOMOKE,ISTOKPOGA,SEATTLE HARBOR,SAN FRANCISCO,WIMAUMA,PUERTO RICO,VIRGIN ISLANDS,HELENA SOUND,CANAVERAL,DELAWARE RIVER,DABOB BAY,CARLTON LAKE

Florida Lakes:Kissimmee,Jackson,Manatee,Seminole,Apopka,Dora,Eloise,Harris,Griffin,Kerr,Marion,Monroe,WORTH. Ohio:Alum Creek,Berlin,Buckeye,Hoover,Indian,Salt Fork,Seneca,Sandusky,Piedmont,Portage

Tennessee,Alabama,Kentucky Lakes:Bennett/Nickajack,Chickamauga,Cordell Hull,Fort Loudoun,Norris,Old Hickory,Watts Bar,Wheeler,Wilson,Pickwick,Guntersville,Dale Hollow,Dewey,Fishtrap,Grayson,Cumberland

Navigable Rivers:Allegheny,Arkansas,Atchafalaya,Black Warrior,Clinch,Cumberland,Illinois,Kanawha,Kaskasia,Lower Mississippi,Missouri,Monongahela,Ohio,Ouachita,Red,Tennessee,Upper Mississippi

Texas Lakes:Texoma,Texana,Choke Canyon,Cherokee,Ray Roberts,Sam Rayburn,Stamford,Travis,Tawakoni,Corpus Christi,Navarro Mills,Palestine,Red Bluff,Medina,Leon,Sabine,Kemp,Cooper,Aquilla,Belton,Canyon

Incl. charts for POTOMAC RIVER, YEOCOMICO, YORK RIVER, MACHODOC CREEK, ROSARIO STRAIT, NEW YORK HARBOR, PIANKATANK RIVER, BLOCK ISLAND, FISHERS ISLAND, BOGUE SOUND, PALM SHORES, BELLINGHAM, SAN JUAN

Incl charts for NEW RIVER,JACKSONVILLE,GALVESTON BAY,FRIDAY HARBOR,SANTA CATALINA,AVALON BAY,SAN DIEGO,SANTA ROSA,PATUXENT RIVER,VASHON ISLAND,LONG ISLAND,CAPE LOOKOUT,ST JOHNS RIVER,MISSISSIPPI RIVER

Incl. MOBILE BAY,BIRD RIVER, HARO STRAIT, STUART ISLAND, GULF OF ALASKA,PENSACOLA BAY,ELIZABETH RIVER,NANTICOKE RIVER,NORFOLK,LOS ANGELES,LONG BEACH,PORT TOWNSEND,PUGET SOUND,HOOD CANAL,SKAGIT,OAKLAND

Incl. MANATEE RIVER,GULF OF MAINE,GEORGES BANK,ADAMS CREEK CANAL,HUDSON RIVER,CHOPTANK RIVER,DAYTONA BEACH,COLLEGE CREEK,SAN PABLO,CRYSTAL RIVER,SAINT CLAIR,Winnipesaukee,BACK RIVER,DELAWARE,SMYRNA