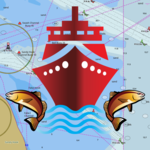 i-Boating: USA - GPS Nautical Charts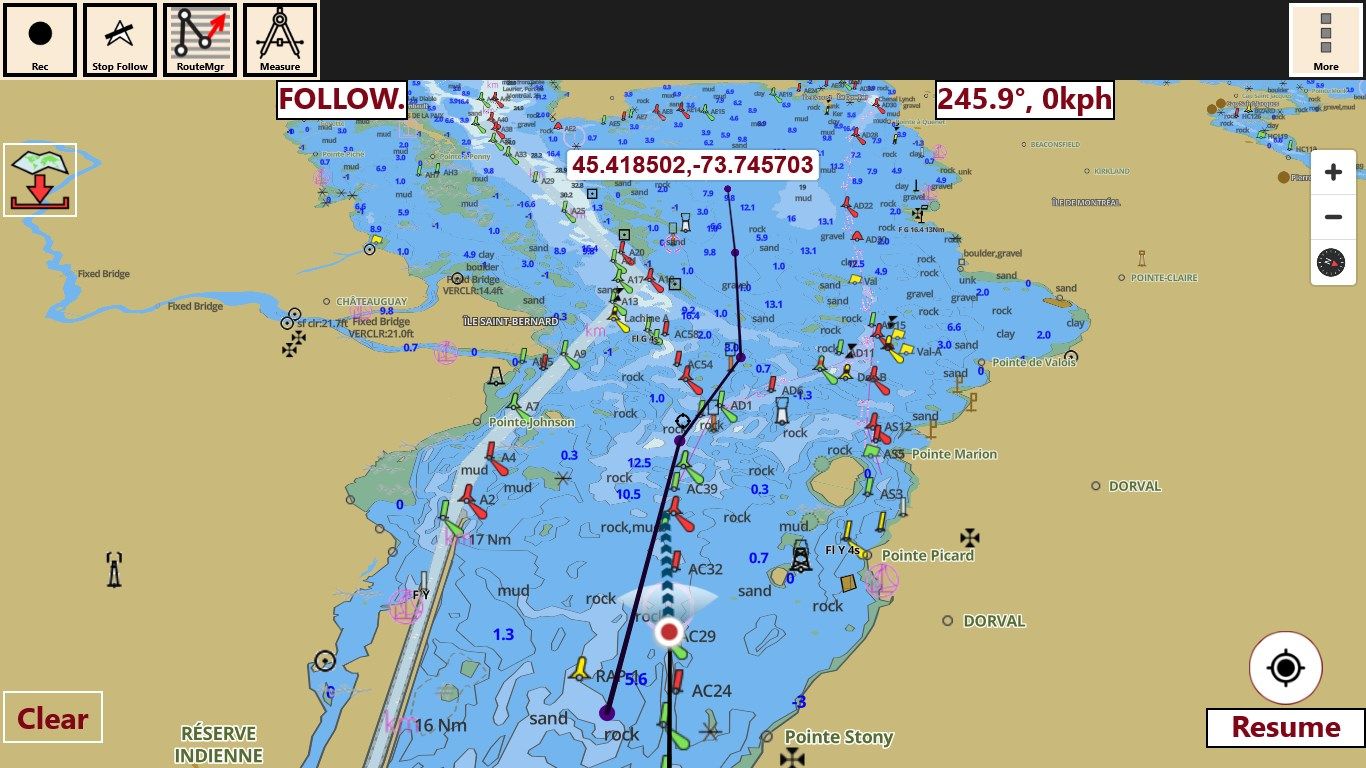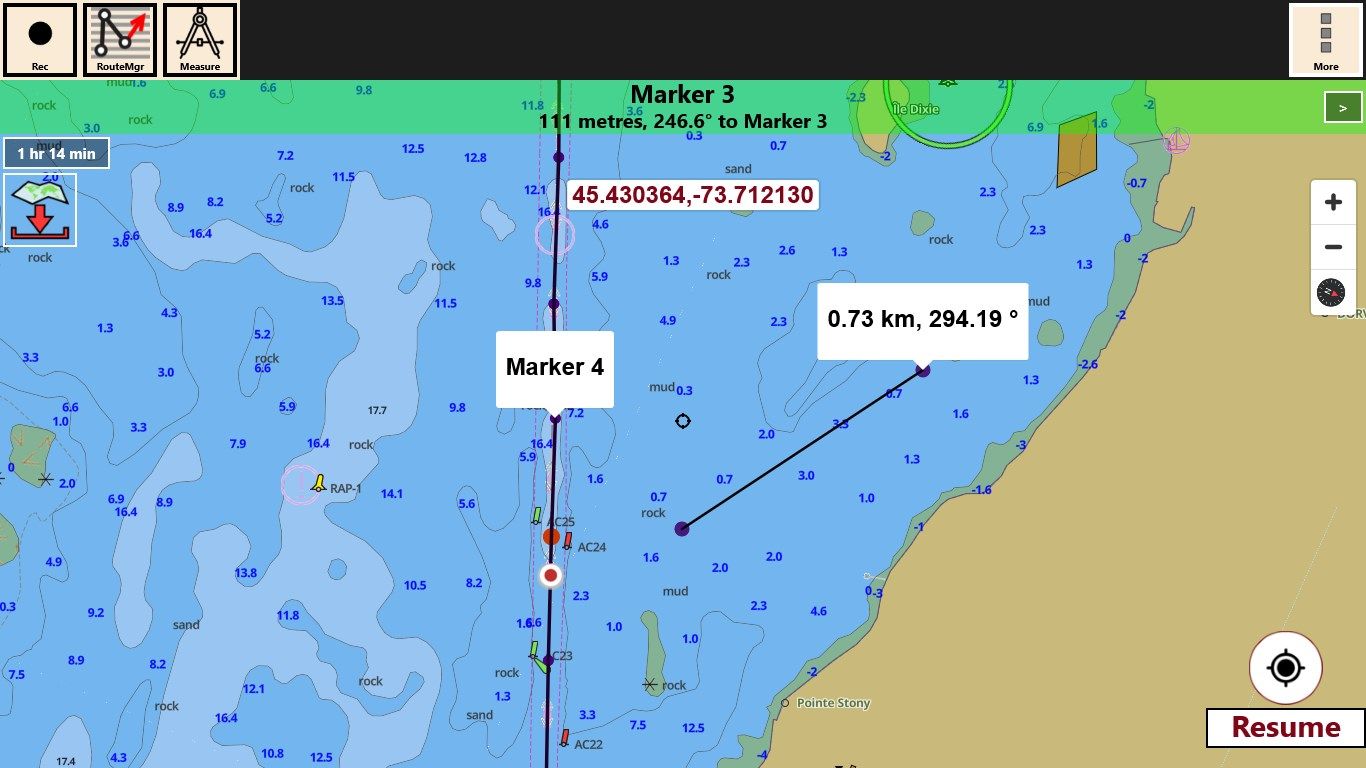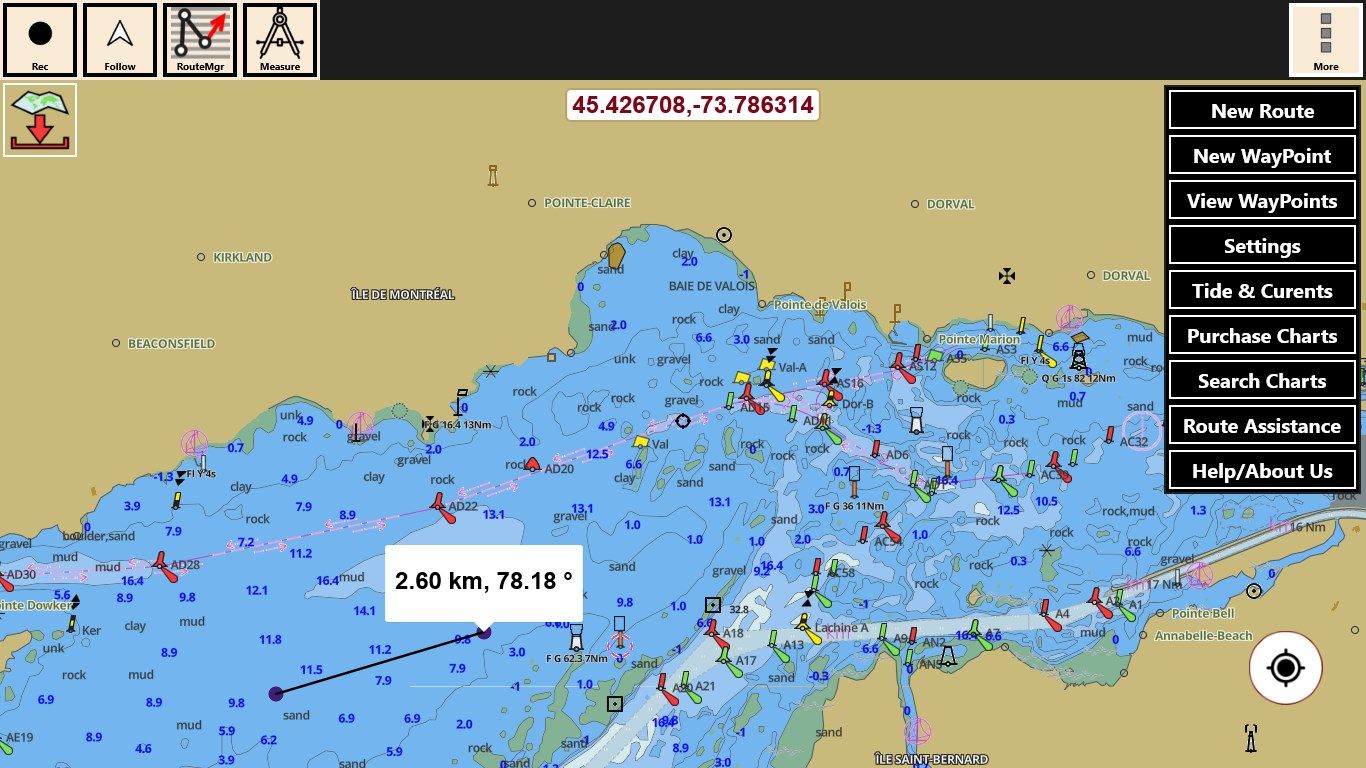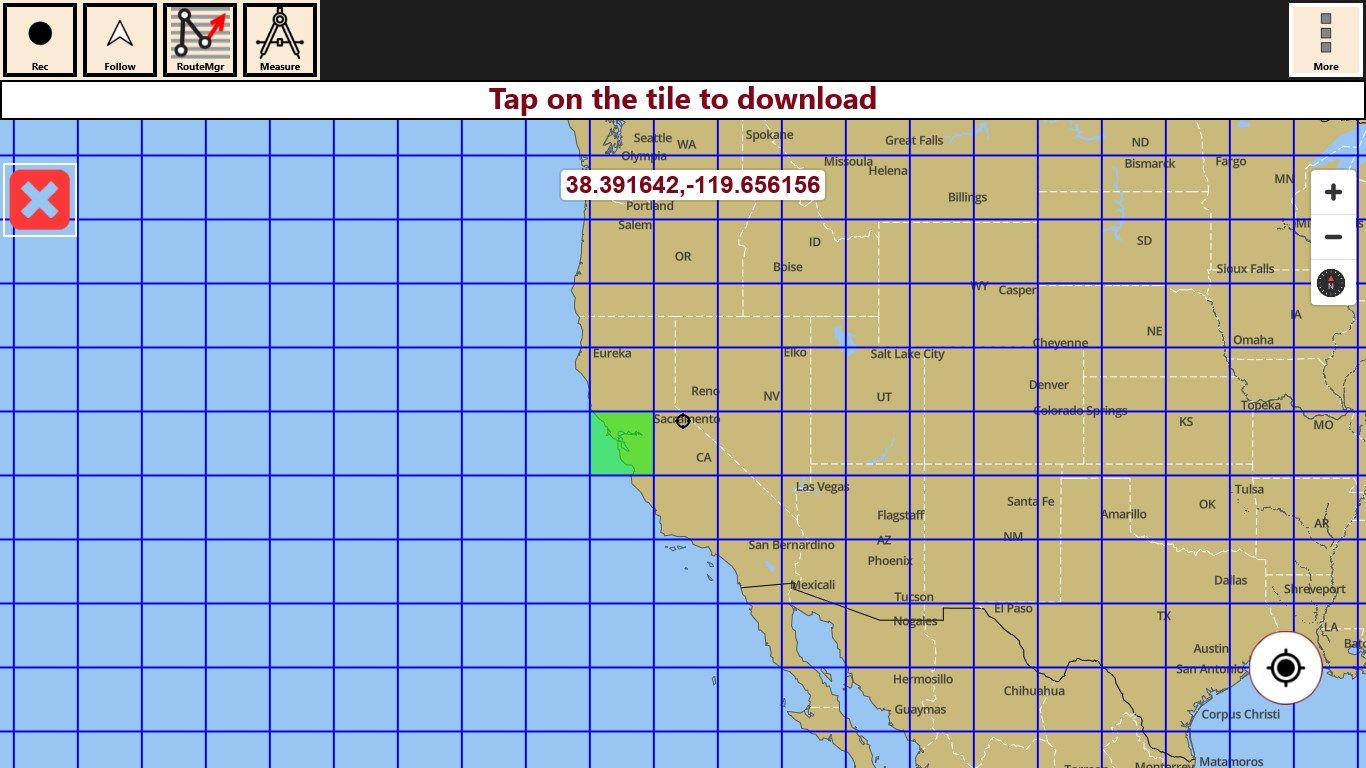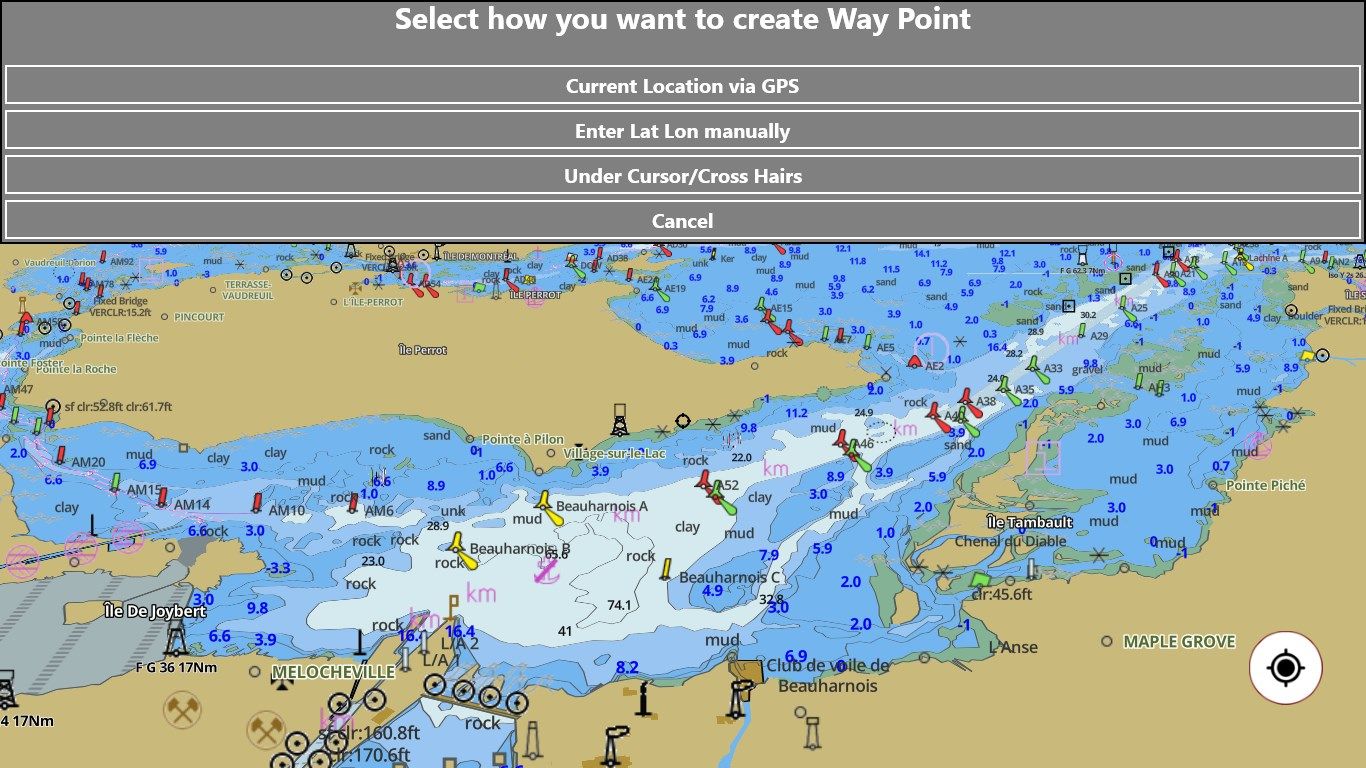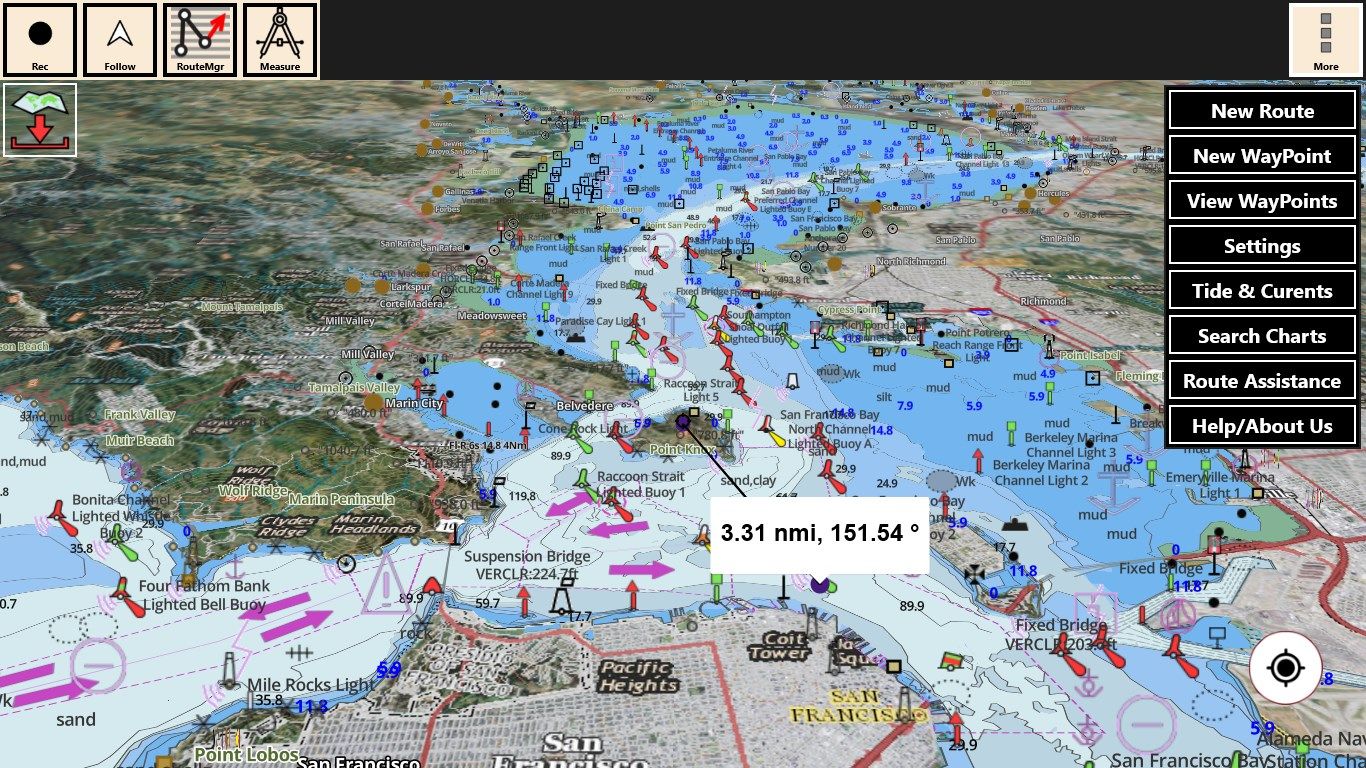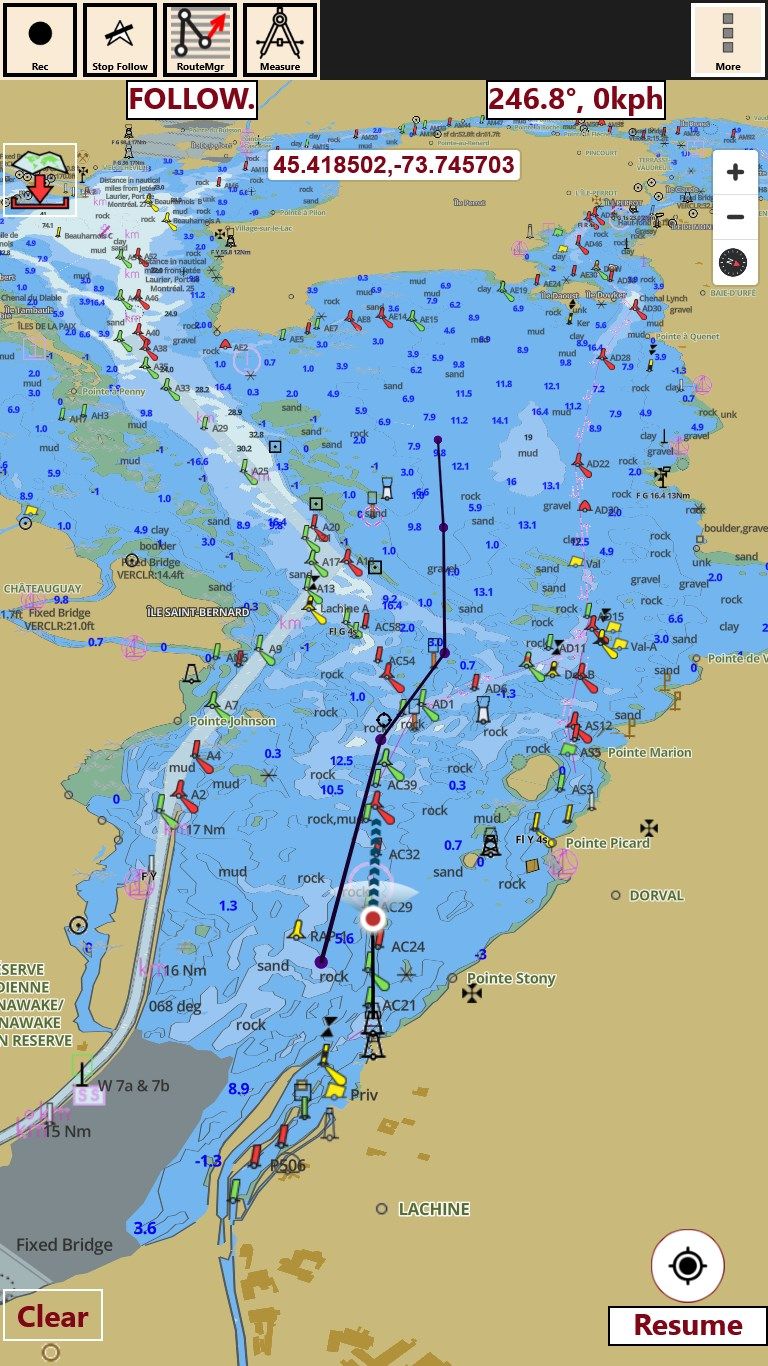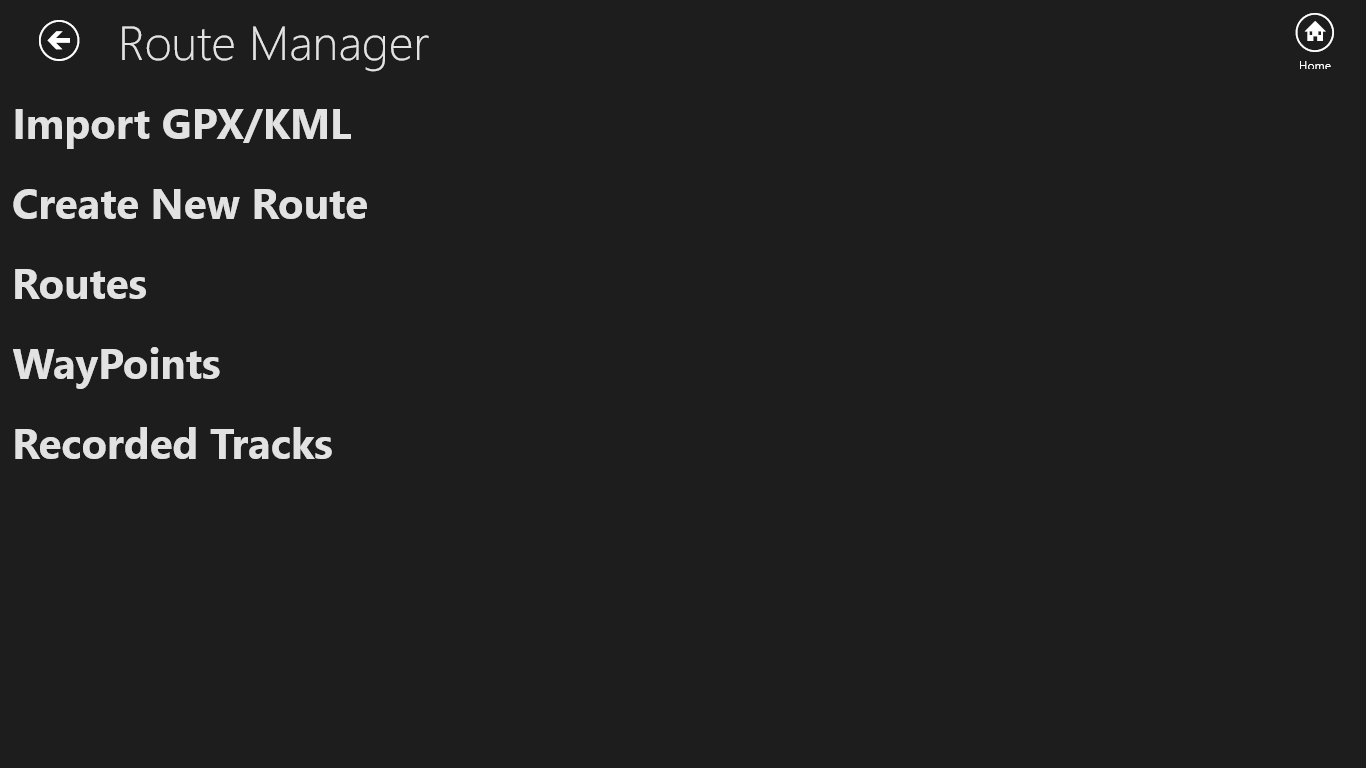 About i-Boating: USA - GPS Nautical Charts
Marine Navigation / Charts App offers access to NOAA & USACE RNC nautical charts with POI data from ENC charts. The app also includes 7000+ freshwater lake maps. It supports Marine Charts course up orientation. Includes marine weather data (Tide & Currents data). It has route manager to create new boating routes or import existing GPX/KML routes.
Only marine navigation app to have route assistance for marine navigation.
Text Prompts for marine navigation / nautical naviagtion (requires GPS )
-prompts on approaching a boating route marker
-Continous distance and ETA updates
-Alerts when sailing/boating off route
-Alerts when boating in wrong direction
** Question? pl. contact support at gpsnauticalcharts.com / http://www.gpsnauticalcharts.com **
*Route Editing/Creation
-Create routes from scratch
-Edit GPX/KML routes.
-Add custom description to route points.
-Drop markers along route.
Offline NOAA charts, USACE rivers, Lake Depth Maps(FreshWater Lakes)
-Visual / Text Search
-Chart Catalog
-Charts reprojected for WGS84 datum
(NEW)FreshWater Lake maps:
7000+ lake depth charts
Includes boat ramps data
1ft / 3ft depth contour maps for anglers for selected lake maps.
Selected lake maps also contain fishing hot spots.
Create custom fishing hot spots
Tide & Currents
-High / Low tides.
-Tidal Currents.
-Active currents stations.
*Seamless chart quilting of marine charts
*Distance Bearing tool
*Create custom way points
Using GPS
-Select point on map
-Manually enter latitude & longitude
*POI layer for marine charts
Overlay POIs
POIs derived from equivalent ENC and contains all categories including Buoy, Light, Harbour facility, Obstr.
*Search POIs/Way points
*Pan/Zoom/My Location
Record Marine GPS tracks
View tracks overlay
Live track animation
Track analytics/stats
Export GPX trcks to SDCard
-Share GPX trakcs with friends/View on Google earth.
Auto Follow Mode (Course up)
-Continuously updates boat's location on chart
Adjustable update frequency
Sample Nautical Charts (see http://gpsnauticalcharts.com/ for all charts)
SUGARLOAF KEY TO KEY WEST
PORT RICHEY TAMPA BAY - CLEARWATER HBR
EAST BAY TO WEST BAY FLORIDA
ST JOSEPH, ST ANDREW BAYS
INTRACOASTAL WATERWAY MATECUMBE TO GRASSY KEY
CHESAPEAKE BAY CAPE CHARLES TO NORFOLK HARBOR
ANCLOTE KEYS TO CRYSTAL RIVER
ST JOSEPH SOUND
MIAMI HARBOR
Minnesota lakes - Kabetogama, Minnetonka, Waconia,Leech,Mille Lacs
Lake Keowee,Jocassee,Hartwell,Greenwood,Lake Murray
Mark Twain,Ozarks,Table Rock
Lake St. Clair
Lake Kentucky
GULF OF MEXICO
CAPE SABLE TO CAPE HATTERAS
GENERAL CHART OF THE GREAT LAKES
STRAITS OF FLORIDA AND APPROACHES
KEY WEST TO THE MISSISSIPPI RIVER
CAPE CANAVERAL TO KEY WEST
CAPE HATTERAS TO STRAITS OF FLORIDA
HAVANA TO TAMPA BAY
NORTH PACIFIC OCEAN EASTERN PART
LEASE BLOCK FOR HAVANA TO TAMPA BAY
WEST QUODDY HEAD TO NEW YORK-EAST COAST
MEXICAN BORDER TO DIXON ENTRANCE
CHESAPEAKE BAY - NORTHERN PART
PLOTTING SHEET NEWPORT TO BERMUDA
NY APPROACHES - NANTUCKET SHOALS TO FIVE FATHOM BANK
ESTERO BAY-LEMON BAY INCL. CHARLOTTE HARBOR
FORT MYERS TO CHARLOTTE HARBOR and WIGGINS PASS
CAPE MAY TO CAPE HATTERAS
ANNAPOLIS HARBOR
CHESAPEAKE BAY SANDY PT TO SUSQUEHANNA RIVER
CHESAPEAKE BAY SEVERN AND MAGOTHY RIVERS
CHEASAPEAKE BAY COVE POINT TO SANDY POINT
FORT MYERS EXTENSION
CHESAPEAKE BAY EASTERN BAY AND SOUTH RIVER
FOWEY ROCKS TO AMERICAN SHOAL
FOWEY ROCKS TO ALLIGATOR REEF
SAN FRANCISCO ENTRANCE
TAMPA BAY TO CAPE SAN BLAS
CHESAPEAKE BAY - SOUTHERN PART
FLORIDA KEYS ALLIGATOR REEF TO SOMBRERO KEY
CHESAPEAKE BAY CHOPTANK RIVER AND HERRING BAY
FORT MYERS TO CHARLOTTE HARBOR AND WIGGINS PASS BB-CC
CHARLOTTE HARBOR TO TAMPA BAY
CHESAPEAKE BAY APPROACHES TO BALTIMORE HARBOR
SANDS KEY TO BLACKWATER SOUND
KENT ISLAND NARROWS
MIAMI TO MARATHON AND FLORIDA BAY PAGE B INSET 2
KEY WEST HARBOR
BLACKWATER SOUND TO MATECUMBE
SAN FRANCISCO TO CAPE FLATTERY
FORT LAUDERDALE PORT EVERGLADES
MIAMI TO MARATHON AND FLORIDA BAY PAGE D INSET 1
MAIMI TO MARATHON and FLORIDA BAY EXT 1
CHESAPEAKE BAY - MARYLAND CHESTER RIVER
CHARLESTON LIGHT TO CAPE CANAVERAL
MIAMI TO MARATHON AND FLORIDA BAY PAGE C
TAMPA BAY - PORT RICHEY TAMPA BAY - CLEARWATER HBR
TAMPA BAY AND ST JOSEPH SOUND
ROCK HALL HARBOR\SWAN CREEK
INTRACOASTAL WATERWAY MATECUMBE TO GRASSY KEY
MIAMI TO MARATHON AND FLORIDA BAY PAGE B
PATUXENT RIVER SOLOMONS IS AND VICINITY
SUGARLOAF KEY TO KEY WEST
LEASE BLOCK FOR TAMPA BAY TO CAPE SAN BLAS
MIAMI HARBOR
ST LUCIE INLET TO FORT MYERS AND LAKE OKEECHOBEE
INTRACOASTAL WATERWAY MIAMI TO ELLIOTT KEY
MIAMI TO MARATHON AND FLORIDA BAY PAGE H INSET 8
LONG ISLAND SOUND-EASTERN PART CONN-NY
MIAMI TO MARATHON AND FLORIDA BAY PAGE A LEFT PANEL
INTRACOASTAL WATERWAY GRASSY KEY TO BAHIA HONDA KEY
MIAMI TO MARATHON AND FLORIDA BAY PAGE G LEFT SIDE
CHATHAM RIVER TO CLAM PASS
CHESAPEAKE BAY PATUXENT RIVER AND VICINTY
FLORIDA EVERGLADES NATIONAL PARK WHITEWATER BAY
MIAMI TO MARATHON AND FLORIDA BAY PAGE F INSET 7
WEST PALM BEACH TO MIAMI PORT EVERGLADES INSET 1
FOWEY ROCKS- HILLSBORO INLET TO BIMINI ISLANDS
CAPE HATTERAS TO CHARLESTON
KEY WEST HARBOR AND APPROACHES
WEST PALM BEACH TO MIAMI FLORIDA
CHESAPEAKE BAY SMITH POINT TO COVE POINT
LOSTMANS RIVER TO WIGGINS PASS 33-44
BALTIMORE HARBOR
LONG ISLAND SOUND WESTERN PART
NAPLES BAY
ST LUCIE INLET TO FT MYERS and LAKE OKEECHOBEE
MIAMI TO MARATHON AND FLORIDA BAY PAGE B INSET 3
SAN DIEGO TO SAN FRANCISCO BAY
MIAMI TO MARATHON AND FLORIDA BAY PAGE E
INTRACOASTAL WATERWAY - BISCAYNE BAY
MIAMI TO MARATHON AND FLORIDA BAY PAGE G RIGHT SIDE
MIAMI TO MARATHON AND FLORIDA BAY PAGE E INSET 6
FLORIDA KEYS SOMBRERO KEY TO DRY TORTUGAS
PAMPANO BEACH TO HALLADALE FLORIDA QQ-RR
MIAMI TO MARATHON AND FLORIDA BAY PAGE E INSET 5
BAHIA HONDA KEY TO SUGARLOAF KEY
CAMBRIDGE INSET
FLORIDA KEYS SOMBRERO KEY TO SAND KEY
JUPITER INLET TO FOWEY ROCKS
EVERGLADES NTL PARK - SHARK RVR TO LOSTMANS RVR
LAKE ERIE
CONTINUATION OF PEACE RIVER
TAMPA BAY ENTRANCE
LOSTMANS RIVER TO WIGGINS PASS
NAVAL AMPHIBIOUS BASE LITTLE CREEK
EAST CAPE TO MORMON KEY
SELBY BAY INSET
SAN DIEGO TO CAPE MENDOCINO
CHOPTANK RIVER CAMBRIDGE TO GREENSBORO
LOSTMANS RIVER TO WIGGINS PASS SIDE B EXTENSION 2
MIAMI TO MARATHON AND FLORIDA BAY PAGE B INSET 4
CHESAPEAKE BAY ENTRANCE
TAMPA BAY - PORT RICHEY CLEARWATER HBR - PORT RICHEY
HONGA NANTICOKE WICOMICO RIVERS AND FISHING BAY
CHESAPEAKE BAY CAPE HENRY TO THIMBLE SHOAL LIGHT
LAKE WORTH TO DEERFIELD BEACH FLORIDA PP-QQ
BETHEL SHOAL TO JUPITER INLET
INSET 2 SIDE A PORT MAYACA
POTOMAC RIVER SMITH POINT VA TO BRETON BAY MD
INTRACOASTAL WATERWAY WEST PALM BEACH TO MIAMI
RAPPAHANNOCK RIVER ENTRNCE PIANKATANK-GREAT WICOMICO RIVERS
PUGET SOUND
NEW RIVER EXTENSION
HEAD OF CHESAPEAKE BAY
POTOMAC RIVER-CHESAPEAKE BAY TO PINEY POINT
DANIA CUT-OFF CANAL EXTENSION INSET 2
CAPE BLANCO TO CAPE FLATTERY
TAMPA BAY NORTHERN SECTION
SAN FRANCISCO BAY ANGEL ISLAND TO POINT SAN PEDRO
NORFOLK INNER HARBOR
HAMPTON ROADS VIRGINIA
DELAWARE BAY
CHESAPEAKE BAY CAPE CHARLES TO NORFOLK HARBOR
ST LUCIE INLET INSET 3
BIG SPANISH CHANNEL TO JOHNSTON KEY
CHESAPEAKE BAY POCOMOKE AND TANGIER SOUNDS
EVERGLADES HARBOR
SOUTH BAY EXTENSION
LOXAHATCHEE RIVER EXTENSION
FORT PIERCE HARBOR
SAN FRANCISCO BAY CANDLESTICK POINT TO ANGEL ISLAND
ANCLOTE KEYS TO CRYSTAL RIVER
CAPE MAY
LOSTMANS RIVER TO WIGGINS PASS FLORIDA EXTENSION
PALM SHORES TO WEST PALM BEACH KK-LL
LEMON BAY TO PASSAGE KEY INLET
TAMPA BAY TO BLACKBURN BAY
CHESAPEAKE AND DELAWARE CANAL BOTTOM PANEL
RUDEE INLET INSET 2
TAMPA BAY NORTHERN SECTION - ST PETERSBURG INSET
CHESAPEAKE BAY CAPE CHARLES TO WOLF TRAP
THIMBLE SHOAL CHANNEL
ST LUCIE INLET INSET 4
LOSTMANS RIVER TO WIGGINS PASS SIDE B EXTENSION 1
TANGIER SOUND - NORTHERN PART
LAKE WORTH INLET
CHESAPEAKE BAY WOLF TRAP TO SMITH POINT
TAMPA BAY NORTHERN SECTION - TAMPA INSET
PALM SHORES TO WEST PALM BEACH FLORIDA NN-OO
CHESAPEAKE BAY MOBJACK BAY AND YORK RIVER ENTRANCE
LAKE IDA
SAN FRANCISCO BAY TO ANTIOCH
NORFOLK AND ELIZABETH RIVER
OCEAN CITY TO CAPE MAY
LAKE MICHIGAN
YORK RIVER YORKTOWN AND VICINITY
STRAIT OF GEORGIA AND STRAIT OF JUAN DE FUCA
PONCE DE LEON INLET TO CAPE CANAVERAL
LAKE HURON
SAN JUAN CHANNEL
CAPE HENRY TO CURRITUCK BEACH LIGHT
SAN FRANCISCO BAY TO SAN PABLO BAY
LEASE BLOCK FOR CAPE ST. GEORGE TO MISSISSIPPI PASSES
POINT SUR TO SAN FRANCISCO
CHESAPEAKE AND DELAWARE CANAL TOP PANEL
LAKE OSBORNE
CAPE MAY TO FENWICK ISLAND
POTOMAC RIVER LITTLE WICOMICO RIVER VA INSET 1
HUDSON AND EAST RIVERS-GOVERNORS ISLAND TO 67TH STREET
LAKE WORTH INLET INSET 2
JAMES RIVER NEWPORT NEWS TO JAMESTOWN ISLAND
CAPE ST. GEORGE TO MISSISSIPPI PASSES
STRAIT OF JUAN DE FUCA TO STRAIT OF GEORGIA
CHESAPEAKE BAY WOLF TRAP TO PUNGOTEAGUE CREEK
ST AUGUSTINE LIGHT TO PONCE DE LEON INLET
MOREHEAD CITY
ROSARIO STRAIT SOUTH PART
SAN FRANCISCO BAY TO ANTIOCH SAN RAFAEL CREEK
PUGET SOUND - NORTHERN PART
MARTHAS VINEYARD TO BLOCK ISLAND
PUGET SOUND SEATTLE TO BREMERTON
MIDDLE RIVER EXTENSION
POTOMAC RIVER WASHINGTON DC MARYLAND AND VIRGINIA
APPROACHES TO CHESAPEAKE BAY
BLOCK ISLAND SOUND AND APPROACHES
PALM SHORES TO WEST PALM BEACH EXTENSION LL-MM
LAKE CLARKE
SAN PEDRO CHANNEL
POTOMAC RIVER ST MARYS RIVER MD INSET 2
LAKE WORTH INSET 3
POTOMAC RIVER ST GEORGE CREEK MD INSET 3
FENWICK ISLAND TO CHINCOTEAGUE INLET
INSET 2 SARASOTA
OCEAN CITY INLET
PALM SHORES TO WEST PALM BEACH SIDE B OO-PP
APPROACHES TO NEW YORK FIRE ISLAND LIGHT TO SEA GIRT
NY LI SHELTER ISLAND SOUND AND PECONIC BAYS
POTOMAC RIVER ST CLEMENTS BAY TO MATTAWOMAN CREEK
BEAUFORT INLET AND PART OF CORE SOUND
CAPE CANAVERAL TO BETHEL SHOAL
PORT CANAVERAL
POTOMAC RIVER PINEY POINT TO LOWER CEDAR POINT
NY - UPPER BAY AND NARROWS ANCHORAGE
STRAIT OF JUAN DE FUCA EASTERN PART
PENSACOLA BAY ENTRANCE
LAKE TRAFFORD
CHARLESTON
Key features
Download charts for offline use

Auto Follow mode with Real time track overlay and Course Up Orientation.

Import GPX/KML routes (Import existing files on device via Open With App)

Route Editing/Creation (Plot routes from scratch or edit existing ones).

7000+ fresh water lake depth maps, Offline access to NOAA marine charts, charts covering major rivers

Export / Share GPX tracks with friends via email.

Route Assistance (Incl. Continuous distance and ETA updates, alerts for going off route or wrong direction)

Tidal Height & Tidal Current Predictions

Create Way Points - Enter latitude longitude manually, via GPS or a specific point on map

Incl. AMELIA,WOODS HOLE,ROSARIO STRAIT,CHERRY POINT,POCOMOKE,ISTOKPOGA,SEATTLE HARBOR,SAN FRANCISCO,WIMAUMA,PUERTO RICO,VIRGIN ISLANDS,HELENA SOUND,CANAVERAL,DELAWARE RIVER,DABOB BAY,CARLTON LAKE

Florida Lakes:Kissimmee,Jackson,Manatee,Seminole,Apopka,Dora,Eloise,Harris,Griffin,Kerr,Marion,Monroe,WORTH. Ohio:Alum Creek,Berlin,Buckeye,Hoover,Indian,Salt Fork,Seneca,Sandusky,Piedmont,Portage

Tennessee,Alabama,Kentucky Lakes:Bennett/Nickajack,Chickamauga,Cordell Hull,Fort Loudoun,Norris,Old Hickory,Watts Bar,Wheeler,Wilson,Pickwick,Guntersville,Dale Hollow,Dewey,Fishtrap,Grayson,Cumberland

Navigable Rivers:Allegheny,Arkansas,Atchafalaya,Black Warrior,Clinch,Cumberland,Illinois,Kanawha,Kaskasia,Lower Mississippi,Missouri,Monongahela,Ohio,Ouachita,Red,Tennessee,Upper Mississippi

Texas Lakes:Texoma,Texana,Choke Canyon,Cherokee,Ray Roberts,Sam Rayburn,Stamford,Travis,Tawakoni,Corpus Christi,Navarro Mills,Palestine,Red Bluff,Medina,Leon,Sabine,Kemp,Cooper,Aquilla,Belton,Canyon

Incl. charts for POTOMAC RIVER, YEOCOMICO, YORK RIVER, MACHODOC CREEK, ROSARIO STRAIT, NEW YORK HARBOR, PIANKATANK RIVER, BLOCK ISLAND, FISHERS ISLAND, BOGUE SOUND, PALM SHORES, BELLINGHAM, SAN JUAN

Incl charts for NEW RIVER,JACKSONVILLE,GALVESTON BAY,FRIDAY HARBOR,SANTA CATALINA,AVALON BAY,SAN DIEGO,SANTA ROSA,PATUXENT RIVER,VASHON ISLAND,LONG ISLAND,CAPE LOOKOUT,ST JOHNS RIVER,MISSISSIPPI RIVER

Incl. MOBILE BAY,BIRD RIVER, HARO STRAIT, STUART ISLAND, GULF OF ALASKA,PENSACOLA BAY,ELIZABETH RIVER,NANTICOKE RIVER,NORFOLK,LOS ANGELES,LONG BEACH,PORT TOWNSEND,PUGET SOUND,HOOD CANAL,SKAGIT,OAKLAND

Incl. MANATEE RIVER,GULF OF MAINE,GEORGES BANK,ADAMS CREEK CANAL,HUDSON RIVER,CHOPTANK RIVER,DAYTONA BEACH,COLLEGE CREEK,SAN PABLO,CRYSTAL RIVER,SAINT CLAIR,Winnipesaukee,BACK RIVER,DELAWARE,SMYRNA