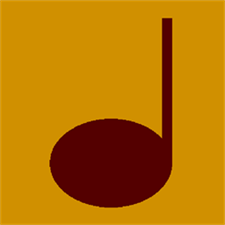 MIDI-Go-Round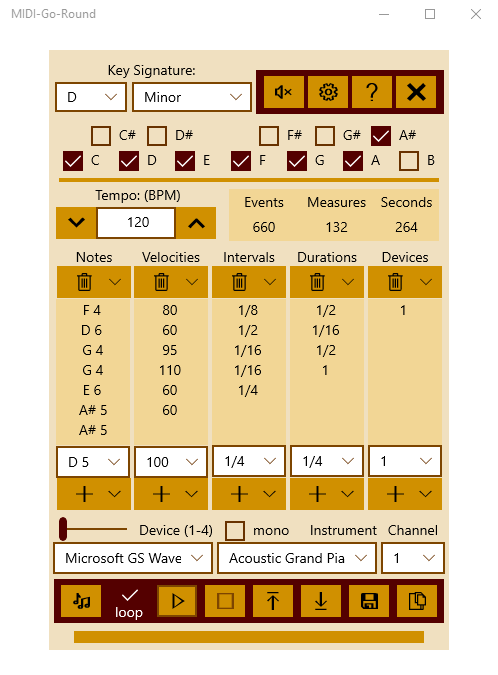 About MIDI-Go-Round
MIDI-Go-Round is an asymmetrical step sequencer for MIDI events. Create lists of MIDI notes, velocities, event intervals/durations, and MIDI devices. MIDI-Go-Round cycles through these events, sending them in turn to selected devices. By creating lists of varying length, interesting combinations emerge. The resulting musical phrases can be played from MIDI-Go-Round or saved for use in other apps such as DAWs.
MIDI-Go-Round is simple and fun but has powerful functionality. It works with the built-in Microsoft GS Wavetable synth, or with external hardware MIDI devices. It can even work with Virtual Instruments with some creative routing.
Set global parameters such as key signature and tempo in BPM. Select up to 4 instruments, either 4 channels on a MIDI device or up to 4 MIDI devices. Each instrument can be flagged as monophonic or polyphonic. Generated phrases can be played once or looped, through the Windows default sound device or external MIDI device(s),
Multiple instances of MIDI-Go-Round, along with other MIDI Playground apps, can run simultaneously, triggered by and synched to an external clock. Sequences can be saved as MIDI files or dragged to a DAW.
You can select all the options you want, or you can select the randomize option and see what ensues.
As of version 2.1, the free trial version has all the functionality of the full version. If you use and appreciate the program please do upgrade to the full version to help support continued development.
MIDI-Go-Round is part of the MIDI Playground series of apps from NaiveSoft.
Key features
Asymmetrical stepping through MIDI events

Allows export and drag/drop of MIDI data

Customizable randomization of looping parameters

Works with built-in or hardware MIDI devices

Full version allows user customization

Uses the new Windows 10 MIDI API