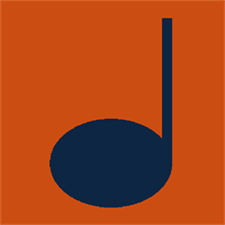 MIDI PhraseBook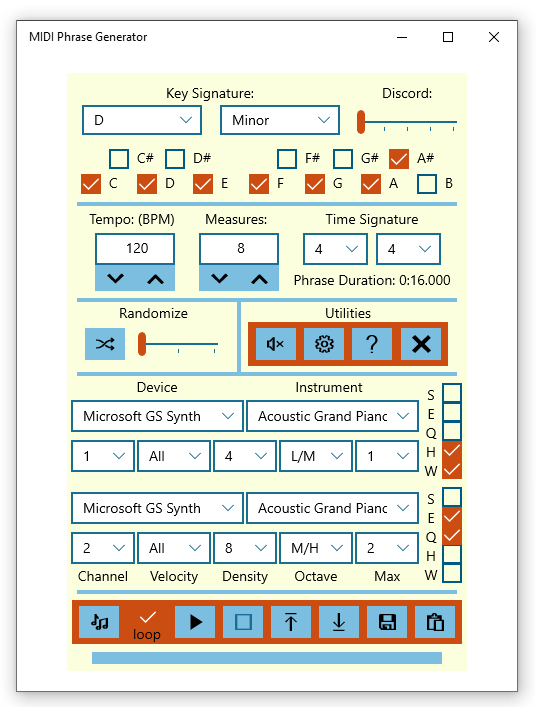 About MIDI PhraseBook
MIDI PhraseBook is an algorithmic composition tool for Windows. Generate and play musical phrases based on the parameters you choose such as key, tempo, and duration. Once generated, MIDI files can be saved or dragged to another app such as a DAW.
PhraseBook is simple and fun but has powerful functionality. It works with the built-in Microsoft GS Wavetable synth, or with external hardware MIDI devices. It can even work with Virtual Instruments with some creative routing.
Global composition parameters include key signature, time signature, tempo in BPM, and number of measures. It supports two instruments, either two channels on a MIDI device or two MIDI devices. Each instrument has its own unique settings for octaves, velocity, note density and more. Generated phrases can be played once or looped, through the Windows default sound device or an external MIDI device.
You can select all the options you want, or you can select the randomize option and see what ensues. Three levels of randomization are provided, to produce results ranging from conventional to … interesting.
Parameters of your favorite phrases can be saved to an XML file and retrieved for future use. Levels of randomization can be defined and customized. If your multi-port MIDI interface shows up in Windows as "MIDI 1, MIDI 2…", you can assign friendly names for your MIDI devices for use in the application.
As of version 2.1, the free trial version has all the functionality of the full version. If you use and appreciate the program, please do upgrade to the full version to help support continued development.
The MIDI PhraseBook is part of the MIDI Playground series of apps from NaiveSoft.
Key features
Algorithmic composition of MIDI files

Allows export and drag/drop of MIDI data

Customizable randomization of MIDI phrase parameters

Works with built-in or hardware MIDI devices

Full version allows user customization

Uses the new Windows 10 MIDI API

Sync to external MIDI Clock