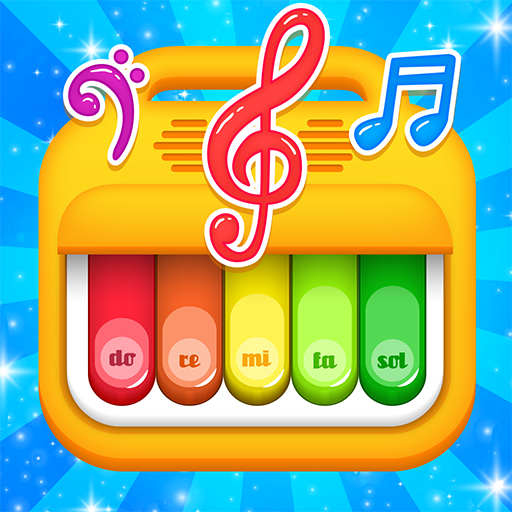 Musical Instruments For Kids and Toddlers
App details
Product ID
XPFPGGFC2P91VG
About Musical Instruments For Kids and Toddlers
Do your children love music? He always asks to play and learn music instruments? Kids Music Instruments – Songs & Sounds game will help your kids to learn to play musical instruments, create wonderful songs, and explore different sounds using interactive techniques. Let's download our music instruments game all in one for free, the perfect way to learn music instruments offline is ready for you now!
Music Learning App for Kids "CHUHCU Kids Music: All in One Musical Instruments Collection HD"
Kids Music Instruments – Songs & Sounds is one of the best musical instruments games, with high-quality graphics and real music instrument sounds. It provides different musical instruments to help your kids to learn music basics easily and let them play fun songs and create their own music for unlimited entertainment. Discover the new musical instruments for kids now, and enjoy creating melodies, composing songs, and developing musical skills.
Authentic instrument sounds
With Chuchu Games Studio, getting to know how to play musical instruments with authentic sounds has never been this easy or fun. Our kid's music instruments playing app features a lot of colorful instruments including Piano, Xylophone, Flute, Guitar, Saxophone, Harp, Drums, Xylophone, Violin, Trumpet, and different rhythms as background for an amazing experience. It takes your kids to the world of music in a happy and fun way! In short, our game includes important musical instruments that toddlers and kids must know!
Our goal is to offer everything your kids need to improve the skills to listen, memorize, concentrate, and become a future musician.
Mix and Match different Sounds
Avail the convenience of mixing and matching different sounds while you play any instrument. Your kid can just tap on multiple instrument icons given above the main instrument to mix and match sounds from different instrument and have fun.
Why you have to download and install Kids Music Instruments – Songs & Sounds.
It's very easy to use so you need just to install it on your device and use it instantly. The best thing is that you don't need an internet connection or creating an account before using our app.
It provides different music instruments with high-quality graphics and realistic rhythms sounds.
It's totally free and doesn't contain hidden fees, no special memberships, no in-app purchases, and no advertising.
How to use Kids Music Instruments – Songs & Sounds?
Choose your favourite musical instruments
Tap on the different instrument strings and buttons
Play the background music to create new songs
Enjoy creating melodies and composing songs!
Features of Kids Music Instruments – Songs & Sounds:
• Easy to Use music learning app for kids UI/UX
• Different Music Instruments collection for kids to learn music
• High-quality graphics for every instrument and smooth controls
• Realistic rhythms and sound for a realistic music learning experience
• Background music to mix and match sounds and have fun
• Beautiful visual effects and wide collection of music instruments to play
• Free & Offline mode supported for endless music learning
Kids Music Instruments – Songs & Sounds is a new refreshment in this popular app's category. If you want to help your kids to learn to play musical instruments easily, you'll love our kid's music instruments sounds game.
We are always striving to provide the best user experience for our players. We are also looking for your feedback, suggestion, or recommendation.
Please, feel free to email us and let us know from you so we can continue to bring you the best experiences and updates
Key features
Simple, easy-to-use and intuitive music learning for kids app UI/UX

Play and learn a variety of instruments in online or offline mode

Mix and match sounds from different instruments to compose music

High-end graphics and visually appealing instruments for better learning

Realistic and clear instrument sounds for lifelike learning experience