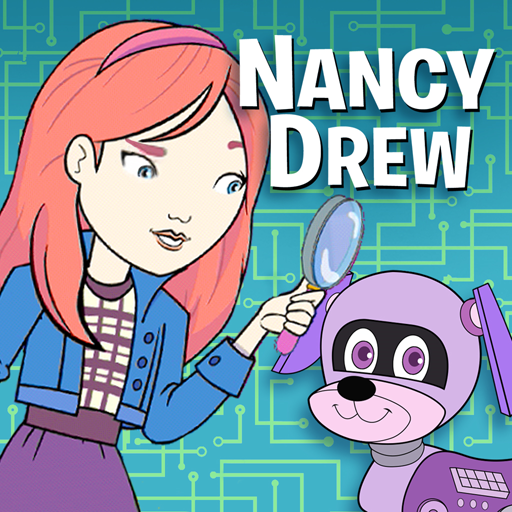 Nancy Drew Codes and Clues Mystery Coding Game
App details
Product ID
XPFP2S97RTM6RN
About Nancy Drew Codes and Clues Mystery Coding Game
WHY PLAY THIS MYSTERY CODING GAME?
Essential skills for children are reading, writing, math and now coding. Today everything related to technology requires some type of code. So sparking an interest in coding, especially for girls, at an early age is important. Nancy Drew: Codes & Clues sparks this interest through a fun and engaging story. The mystery adventure story also builds critical thinking and reading skills as kids read along with story dialogue. Nancy Drew is not a complicated app. Parents or kids DO NOT need to have any prior knowledge of programming. It's just full of fun education, music and coding!
UNIQUE AND CREATIVE STORYLINE!
In one of the most creative and educational coding games for kids, as a member of Nancy Drew's De-TECH-Tive crew, choose disguises, find clues, and program your robot puppy to solve the mystery of a missing project at the Tech Fair.
The fun mystery unfolds in a full narrative story spanning six chapters, as Nancy and friends encounter students who may have taken the missing project. Help Nancy track down suspects and discover what happened to the project before the Tech Fair competition begins!
The coding challenges increase as the story progresses and leads to a Super Coder award. Not only is it a great way for girls to get some basic education on coding skills and knowledge, but it's also a great way to keep them entertained and challenged.
FEATURES:
LEARN
Girls will have fun learning two of the three basic logic structures in the computer programming educational process:
• Sequences
• Loops
DEVELOP
Super De-TECH-Tives will develop critical thinking skills:
• Pattern recognition
• Spatial visualization
• Problem solving
• Algorithmic thinking
• Attention to detail
PLAY
Kids will follow the story and have fun while narrowing down their list of suspects:
• Read along with story dialogue!
• Find clues within 20+ hidden object games!
• Review clues, evidence, and possible suspects in the player's Clue Book!
• Select undercover disguises for Nancy, Bess and George!
• Investigate a new location in each chapter!
• Play bonus coding levels in Obstacle Course mode!
• Collect in-game charms!
• Listen to the "Codes & Clues" theme song composed by Berklee College of Music contest winner, Ana Tish, performed by Sofia Mazursky and produced by Grammy Award winner Tena Clark.
TRY THE FIRST CHAPTER FOR FREE, THEN UNLOCK THE ENTIRE GAME WITH A ONE-TIME IN-APP PURCHASE FOR UNLIMITED PLAY
NO ADS OR PUSH NOTIFICATIONS
If you encounter any issues installing your app, please feel free to contact us at [email protected] or access our FAQ's at http://www.herinteractive.com/support/faq/
Follow us:
Website: NancyDrewCodesandClues.com
YouTube: youtube.com/c/NancyDrewCodesClues
Facebook: facebook.com/NancyDrewCodesandClues/
Twitter: @CodesandClues
Key features
AN EXCITING MYSTERY UNFOLDS AS YOU CHOOSE DISGUISES, FIND CLUES, AND PROGRAM YOUR ROBOT PUPPY!

KIDS WILL LEARN SEQUENCES AND LOOPS AND OTHER BASIC LOGIC STRUCTURES IN COMPUTER PROGRAMMING!

AS KIDS BECOME SUPER DE-TECH-TIVES THEY WILL DEVELOP CRITICAL THINKING SKILLS!

KIDS WILL FOLLOW THE STORY AND HAVE FUN WHILE NARROWING DOWN THEIR LIST OF SUSPECTS!