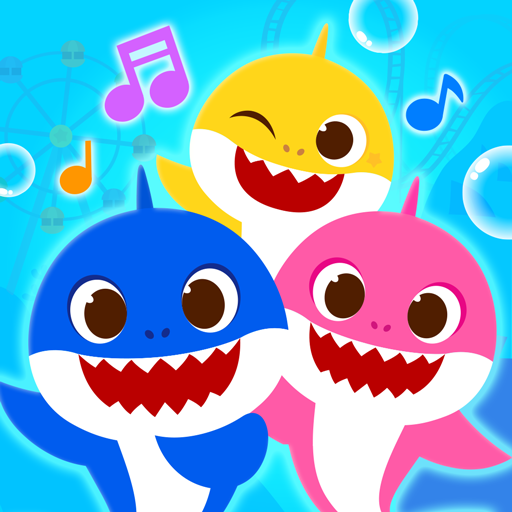 Pinkfong Baby Shark
App details
Product ID
XPFP3BM771VCFJ
About Pinkfong Baby Shark
Free, creative, and educational baby games on Baby Shark, YouTube's most-watched celebrity!
Watch and sing along to "Baby Shark" in 13 different versions and enjoy free, popular nursery rhyme songs for kids.
Play exciting activities and games for kids including coloring, playing the piano, brushing the shark's teeth, and more!
Learning is both safe and fun with Pinkfong Baby Shark!
What's included in this app?
Play exciting games with the Shark Family
Brush Baby Shark's teeth, fight off the germs, and learn about healthy habits!
Feed and treat hungry Baby Shark with its favorite food - cake, sandwich, salad, apple - and watch its special dance!
Play racing games and compete against your sea animal friends. Who's the winner?
Grandpa Shark's hot clam buns are freshly baked! Help him pick them up!
Listen to various versions of Baby Shark!
Watch YouTube's most popular kids song "Baby Shark" in different versions : Halloween, Christmas, ABC, and more.
Watch one of Pinkfong's best toy shows - "A Terrifying Hide and Seek with Baby Shark" - for free!
Enjoy the videos and learn new words in English, Korean, Chinese, Japanese, Spanish, Portuguese, and Russian!
Learn while you play creative, educational games!
Play musical instruments the sea animal friends, including fish, clams and jellyfish, and make your own music with the piano game.
Happy birthday! Color the shark family's birthday party - use 12 different crayons, 12 glitters, and various stickers.
Pop the bubbles and figure out the animal inside - listen to their sounds and learn their names!
Match cards with the same pair with Mommy Shark and learn the names of sea animals. Children can develop logical thinking and coordination skills.
Are you ready to go on an underwater trip with the shark family?
*Try out the newly added "quick play" feature in the main video tap.
---
• About Pinkfong Plus Subscription:
Join Pinkfong Plus membership and get unlimited access to Pinkfong's best apps!
Watch videos and play games ad-free. - Share membership with up to 6 family members.
Sync devices such as smartphones and tablets using one account.
• Apps Available under Pinkfong Plus:
Pinkfong Baby Shark*, Baby Shark Coloring Book, Baby Shark Car Town*, Pinkfong Baby Shark Phone, Pinkfong Dino World*, Pinkfong 123 Numbers*, Pinkfong Tracing World*, Pinkfong Shapes & Colors*, Baby Shark Jigsaw Puzzle Fun, Pinkfong Numbers Zoo, Pinkfong Baby Shark Storybook, Baby Shark Coloring Book, Pinkfong My Body*, Baby Shark ABC Phonics*, Pinkfong Police Heroes Game, Pinkfong Guess the Animal, Baby Shark Pizza Game, Baby Shark World for Kids + more!
Only apps marked with * are available on Amazon.
More available apps will be updated soon.
Click the "More Apps" button on the home screen or visit Amazon App Store to download the apps!
---
Key features
Various versions of Baby Shark videos offline

Creative coloring activities