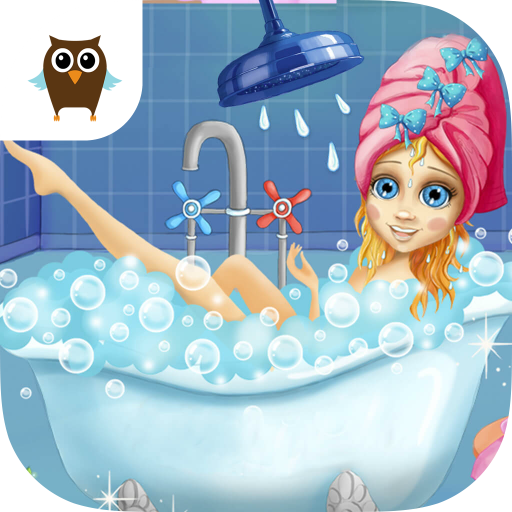 Princess Amy Wedding Salon 2 - Bride's Makeover, Beauty Spa & Makeup Fun
App details
Product ID
XPFPJ9SRV5WGLQ
About Princess Amy Wedding Salon 2 - Bride's Makeover, Beauty Spa & Makeup Fun
NEW wedding salon games inside! Bridal makeup, wedding ring making & full wedding ceremony!
Sweet princess Amy said "Yes!" to her charming prince Eric! Now the whole kingdom is waiting for their royal wedding day. But first, princess Amy needs your styling help to get ready for her fantasy wedding!
Bride's beauty bath spa, charming hairstyle makeover, makeup salon and royal wedding cake decoration are just a start of all the princess wedding fun you will have with Amy! Make the perfect wedding ring for princess Amy. Play princess wedding dress up and choose from the most beautiful wedding dresses and accessories. Design gorgeous bride's wedding look and plan an elegant wedding ceremony for Amy and her prince Eric. Free your imagination and express your perfect sense of style with this adorable girls' game!
Princess Amy Wedding Salon games for girls:
· NEW! Show your makeup artist talent and do the most beautiful wedding makeup for princess Amy!
· NEW! Help prince Eric make the perfect wedding ring and decorate it with diamonds!
· NEW! Full royal wedding ceremony with princess Amy and prince Eric!
· Enjoy spa time! Treat princess Amy with a relaxing bubble bath spa before her magic wedding!
· Play personal hair stylist in princess wedding hair salon and create the most beautiful hairstyle for Amy!
· Mix and match stunning wedding dresses and accessories in the wedding dress salon!
· Design the perfect wedding look and choose the most beautiful jewelry for princess Amy!
· Bake, glaze and decorate the most delicious wedding cake! Add bride and groom on the top of the cake!
· Plan the most romantic wedding ceremony for the royal couple, put on a wedding ring and kiss the bride!
· Princess Amy loves watching Bride's TV - join her and watch her favorite videos together!
· Open Amy's Vow Book to see her best wedding photos!
---
About TutoTOONS Games for Kids
Crafted and play-tested with kids and toddlers, TutoTOONS games foster kids' creativity and help them learn while playing the games they love. Fun and educational TutoTOONS games strive to bring meaningful and safe mobile experience to millions of children worldwide.
Important Message to Parents
This app is free to download and play, but there are certain in-game items that may be purchased for real money. By downloading this app you agree to TutoTOONS Privacy Policy and Terms of Use.
Discover More Fun with TutoTOONS!
· Subscribe to our YouTube channel: https://www.youtube.com/c/tutotoonsofficial
· Learn more about us: https://tutotoons.com
· Read our blog: https://blog.tutotoons.com
Key features
NEW wedding games inside: bridal makeup, wedding ring making & full wedding ceremony!

Style princess Amy for her dream royal wedding in her castle!

Enjoy the best princess wedding salon games for girls!

Makeup salon, bath spa, hairstyle makeover, dress up, cake decoration & more fun inside!

Help prince Eric make the perfect wedding ring & decorate it!

Play bride's beauty bath spa, style Princess Amy hair & do her bridal makeup!

Create your fantasy wedding look: mix and match over 100 wedding dresses & accessories!

Collect 7 photos from princess Amy & prince Eric wedding day!