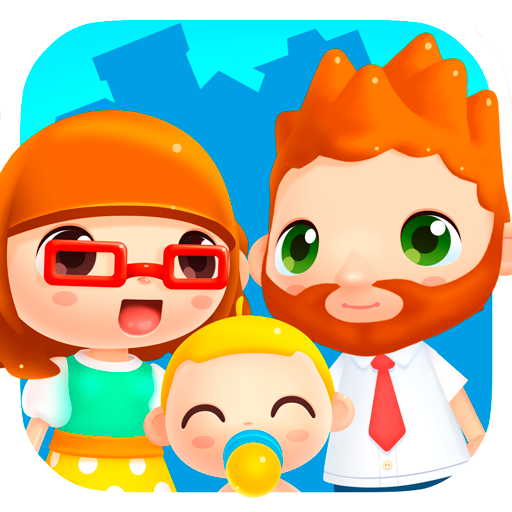 Sweet Home Stories
App details
Product ID
XPFPKGX6F7L82B
About Sweet Home Stories
Wake up and get ready! There are lots of things to do in Sweet Home Stories! A fun and safe educational doll house game for kids, about daily life in a household, where everyone is welcomed and the only rule is to use your imagination to create amazing stories.
On this cozy house, you are in charge of everything: hanging laundry, mopping floors, or making breakfast with this adorable family. With 7 different rooms, including dozens of different activities and hundreds of items available to explore and play, there's no time to be bored.
CREATE YOUR OWN FAMILY STORIES!
Join a family of 6 lovely characters in their day to day life and create your own home stories. Play, explore and have fun doing funny chores in this cozy house: Make tasty meals, diaper the little baby, dress the kids, brush their teeth in the morning, or read to them before sleeping at night.
DISCOVER AND PLAY FREELY!
There is a whole new adventure every time you play. With tons of toys, different equipment and thousands of possible interactions in 7 different rooms, full of surprises and chores to do. Remember, there are no rules, so don't be afraid to interact with everything you see!
REINFORCE DAILY ROUTINES
Parents can play Sweet Home Stories together with kids, to have some fun and healthy laughter with them or helping them to learn new routines and vocabulary. Do you want to encourage them to tidy up their rooms? Suggest them to it in the game, and then apply it to their daily life. Brushing their teeth every day? Remind them to it in the game when the characters wake up. While playing, kids can learn basic home rules and explore daily routines without noticing.
Specifically designed to be played by children from 2 years of age, but detailed enough to captivate and amuse children up to 8 years. Sweet Home Stories will foster their imagination and creativity and will keep them fascinated for hours for less than the price of a cup of coffee.
The free trial includes 3 rooms so you can test the endless possibilities of this game. Once you are sure, you can buy the full version through a single purchase within the application, which will unlock the 7 rooms forever.
SUBARA for everyone
We build digital experiences that are filled with fun and creativity, that spark the imagination of millions of players, of any age, from any corner of the world. Our ethos is underpinned by the quest of being the best humans, and company, we can be. Whether this is through planting trees to help rebuild the world, or by producing great games to entertain, educate, and enlighten players while inspiring them to be the best version of themselves.
Key features
7 rooms, representing different areas of a household: A living room, a kitchen, the children's room, the parents' room, a bathroom, the front yard and the backyard.

Every room is filled with items you'd expect to find in a real house.

A happy family with 6 different characters: A mom, a dad, two kids, a little baby, and their lovely cat.

Hundreds of items available for explore and play.

Dozens every day chores: Preparing meals, putting kids to sleep, clothing, growing veggies in the garden, possibilities are truly unlimited.

Without rules and goals, just fun to create your own stories.

Set the time of the day at any moment to represent different routines, from waking up to bedtime.

Kid safe environment for children aged 2 to 8