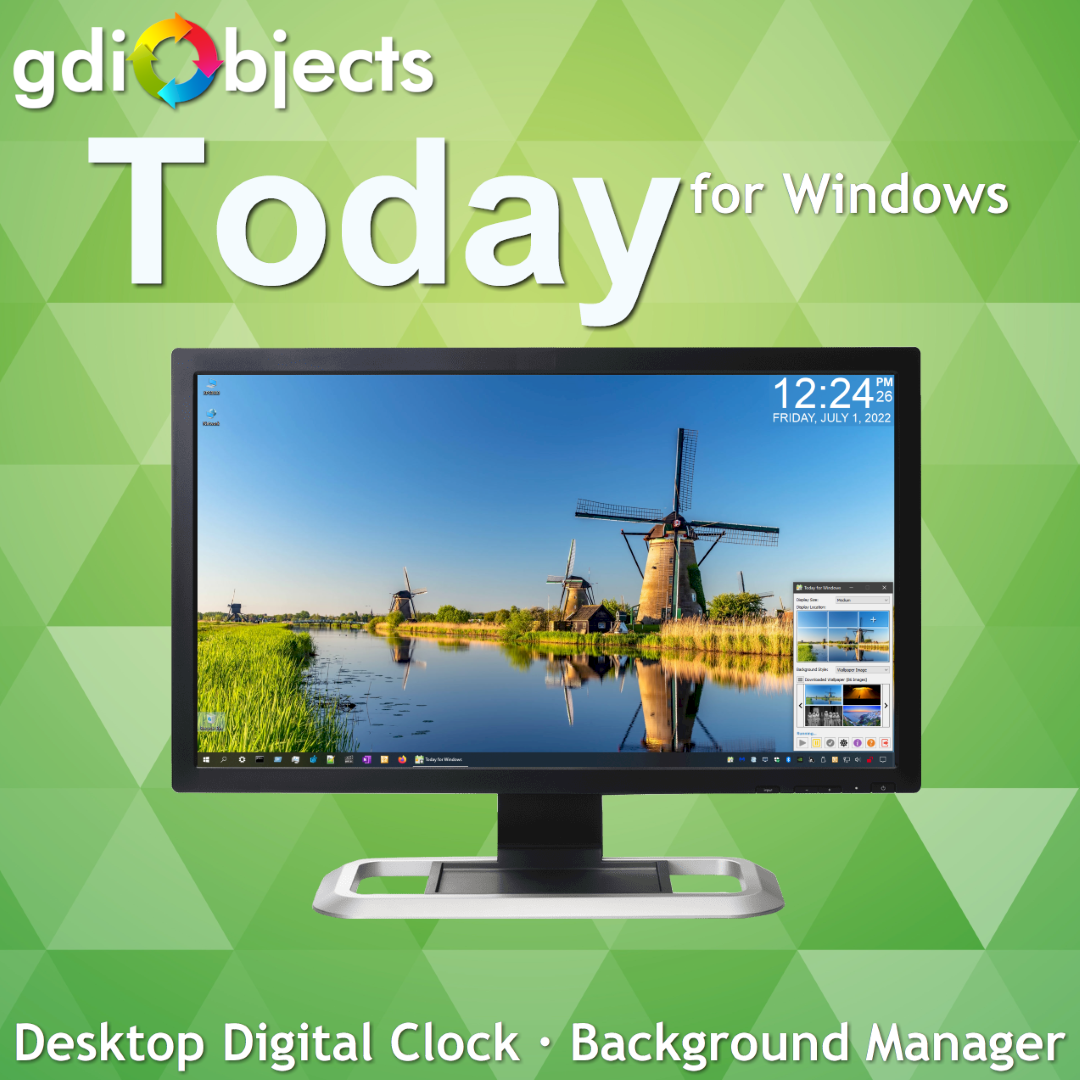 Today for Windows
App details
Product ID
XPDFF7F9RCT3K9
About Today for Windows
—= Download the fully functional, Nag-screen free, and unlockable 30-Day Trial Version =—
—= Special Introductory Price - $4.95 (Normally 7.95) - License Includes 2 Installs =—
Today is a Windows application designed to transparently display, in multiple sizes and locations, a Digital Clock on your desktop.
Today also includes a full-featured Desktop Background Manager, with Bing Daily Wallpaper and Daily Wallpaper Refresh, allowing you to quickly and easily personalize your Windows Desktop.
Start your day with a newly downloaded Bing Wallpaper, or configure Today to randomly select and use a desktop wallpaper from Recent or Favorite Wallpaper Image list.
Digital Clock supports 12-Hour (AM/PM) and 24-Hour (Military) time formats with seconds.
The Date Display automatically picks up your computer's regional settings and translates the date display into the appropriate language.
Adaptive scaling makes it easy to see the digital clock on your computer's screen. You can choose from the following five size options (Compact, Small, Medium, Large, Extra-Large)
Multiple Display Locations, choose from the following 9 predefined grid regions:
Top-left, Middle-left, Bottom-left
Top-center, Middle-center, Bottom-center
Top-right, Middle-right, Bottom-right
Integrated Desktop Background Manager, supporting the following Desktop Background Styles:
Solid Background Color (40 Color Palette + Custom Colors)
Gradient Background Style (8 different fill directions)
Wallpaper Image (Portrait or Landscape)
Powerful Wallpaper Image Browser organizes your Wallpaper Image Collection into three (3) easy-to-access lists:
Recent Wallpaper Images
Favorite Wallpaper Images (Drag & Drop or Browse & Select Images)
Downloaded Wallpaper Images (Bing Daily Wallpaper Downloads)
Key features
Digital Clock with Seconds (12/24 Hour Formats)

Current Date - Localized (Translations)

5 Display Sizes (Compact, Small, Medium, Large, Extra-Large)

9 Different Screen Locations

Integrated Desktop Background Manager

Automatic Bing Daily Wallpaper Download