Understanding Mutual Funds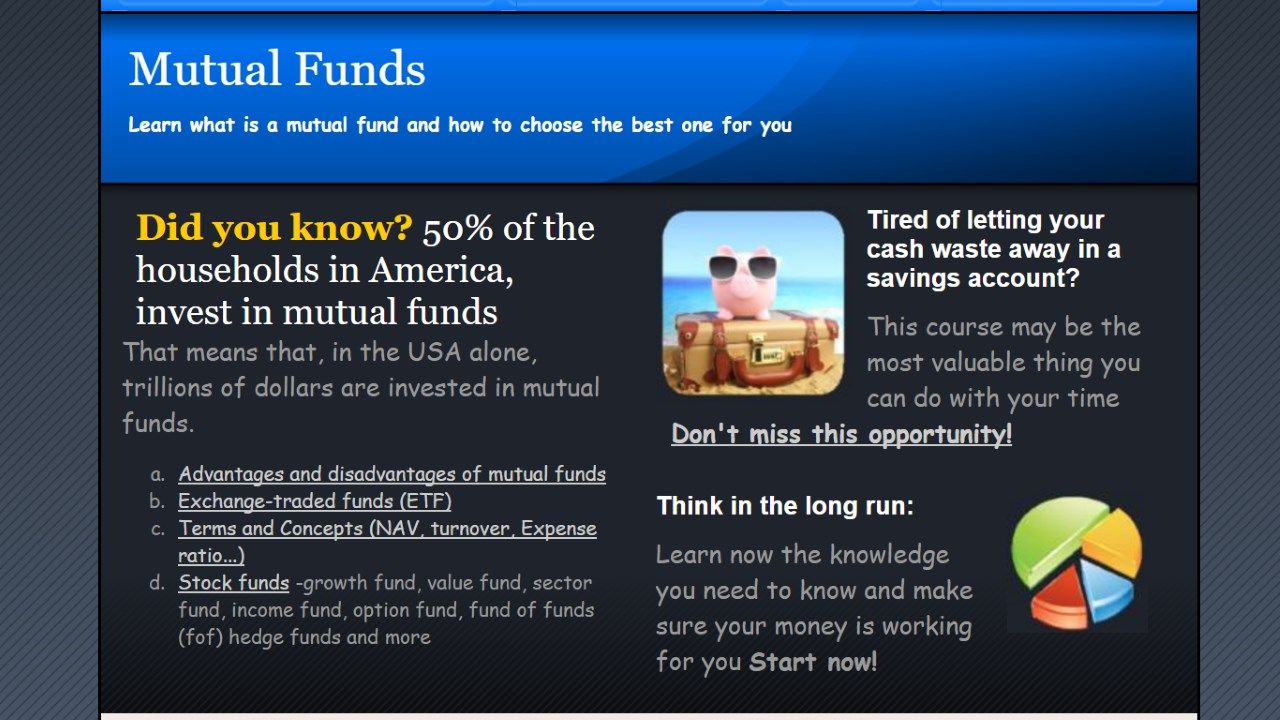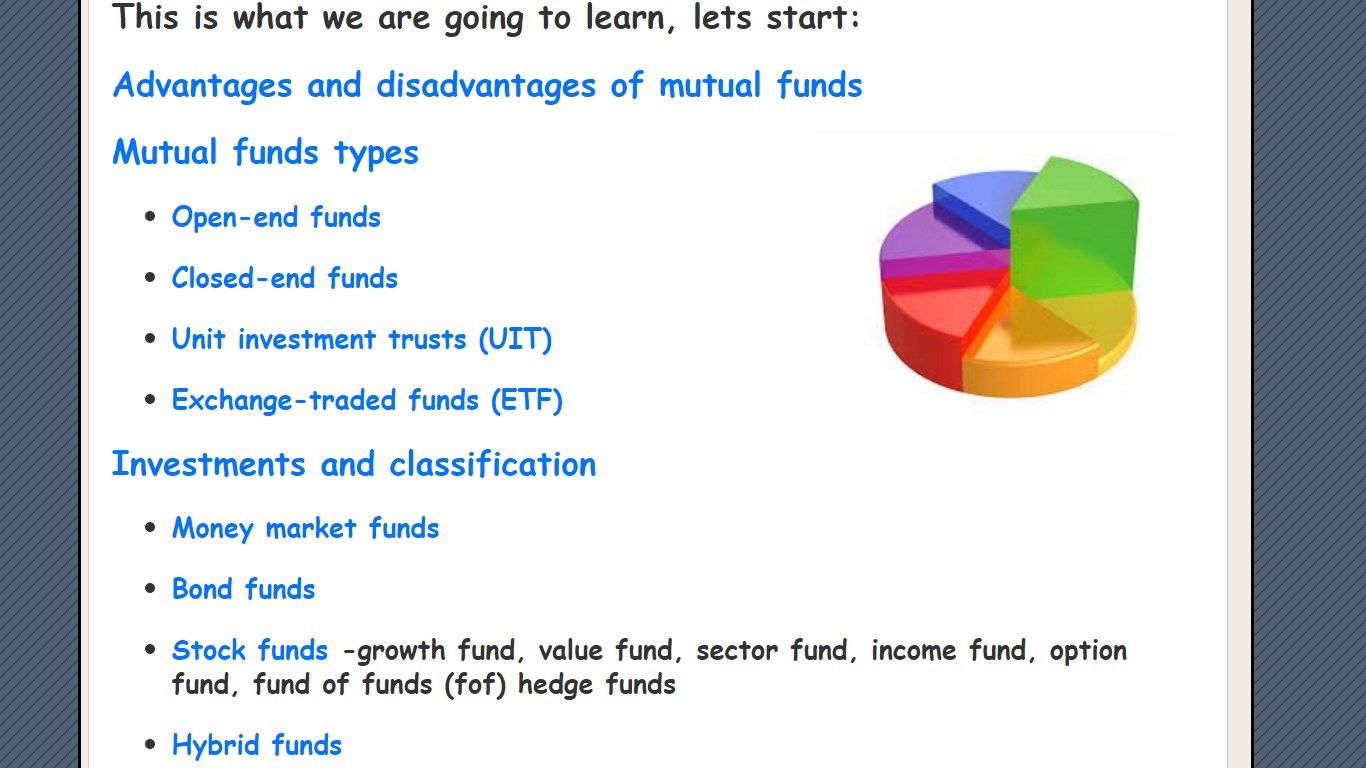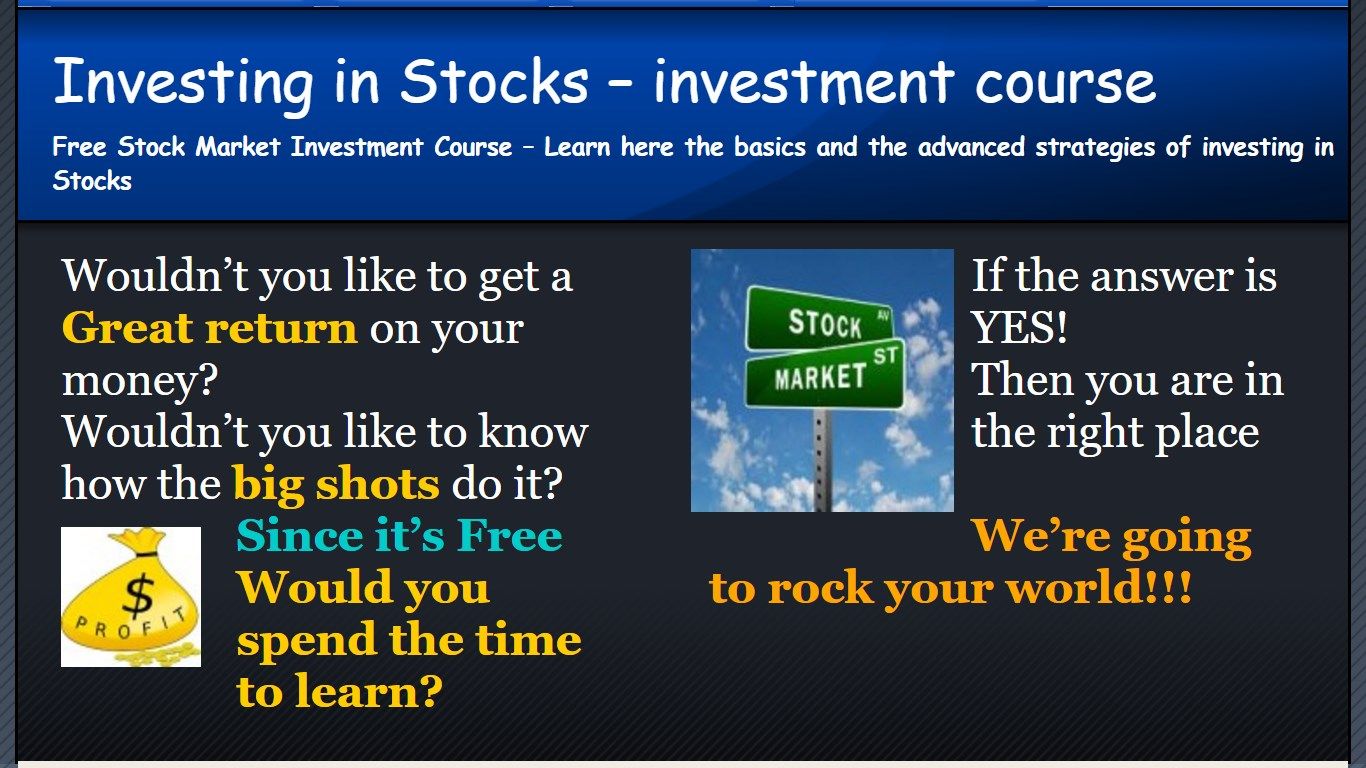 About Understanding Mutual Funds
Tired of letting your cash waste away in a savings account?
This course may be the most valuable thing you can do with your time, Don't miss this opportunity!
Learn now what are your options regarding mutual funds, which mutual fund is best for your needs? Use this knowledge to make your money work for you and get bigger on its own.
We will show you the fundamental difference between etf, uit and closed-ended/open-ended funds. Finishing this course you will know where to invest your money (and what does it have to do with IRA?), You will know whether you should invest in a hedge fund, bond fund, stock fund or maybe in an ETF. You will be able to use this new knowledge of yours and translate it into money and rates.
Did you know? 50% of the households in America invest in mutual funds - but not all of them know mutual funds different options, advantages and disadvantages.
A few tools that will help you finish the course successfully and get the most out of the app:
Schedule lessons times and reminders - You can set the time and days of the week in which you want to use the time learning, and the app will remind you.
Notes tool - a place to write your notes and your thoughts about the course.
Easy navigation between different topic and lessons.
Sharing button.
In this course, you also learn the terms and basic concept you must know, like Open-end funds, Closed-end funds, Unit investment trusts (UIT), Exchange-traded funds (ETF), Money market funds, Bond funds,
Stock funds, growth fund, value fund, sector fund, income fund, option fund, fund of funds (fof) hedge funds, Hybrid funds, Index (passively managed) and actively managed, Nav, turnover, IRA, roth, Expense ratio and much more!
100% free - Download now!
Key features
Learn now what are your options regarding mutual funds, which mutual fund is best for your needs? Use this knowledge to make your money work for you and get bigger on its own.

We will show you the fundamental difference between etf, uit and closed-ended/open-ended funds.

Finishing this course you will know where to invest your money (and what does it have to do with IRA?

You will know whether you should invest in a hedge fund, bond fund, stock fund or maybe in an ETF. You will be able to use this new knowledge of yours and translate it into money and rates.

concept you must know, like Open-end funds, Closed-end funds, Unit investment trusts (UIT), Exchange-traded funds (ETF), Money market funds, Bond funds, Stock funds, growth fund, value fund

concept you must know, sector fund, income fund, option fund, fund of funds (fof) hedge funds, Hybrid funds, Index (passively managed) and actively managed, Nav, turnover, IRA, roth, Expense ratio etc