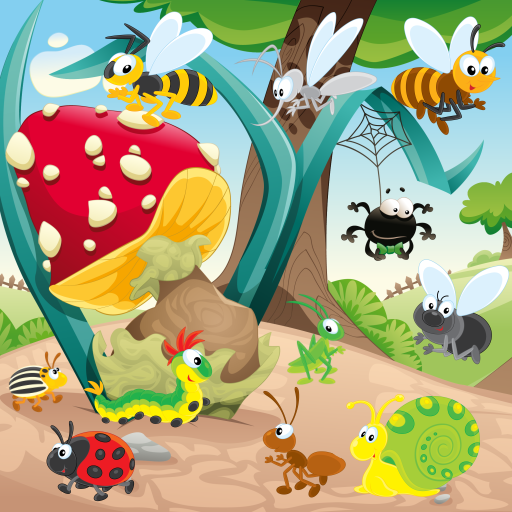 Worms and Bugs for Toddlers and Kids : discover the insect world ! games for kids
App details
Product ID
XPFPJZTXHW9Q02
About Worms and Bugs for Toddlers and Kids : discover the insect world ! games for kids
A wonderful game for toddlers and kids with a cute collection of funny insects!
your kid loves memory games , puzzles and want to learn to know the insect world ? This is the app for you!
Your child will discover all kinds of bugs and in the meanwhile will exercise his memory!
Worms and Bugs for Toddlers and Kids is an educational and entertaining game.
It is a nice, simple, fun, and colorful game for toddlers and kids! Play with insects !
A lot of different memory games and many funny insects to keep your kid busy.
Easy to learn and to control:
-touch the screen and try to match the bugs hidden under the leaves, find the couple!
-interact with all the elements on the screen when a game is solved
-when a game is completed tap the arrow to change to the next level
You can also choose the difficulty level: easy, medium and hard, to suit the needs of each child and exercise your toddler memory.
Available for all screen resolutions and devices, including tablet device as Kindle and Samsung !
Simple and intuitive, your baby will have lots of fun for hours !
This educational game will help your toddler to improve skills in problem solving,
logical and cognitive skills, concentration and memory.
Find out the worm and all the insects hiding under the leaves!
Fun and enjoyable to learn and to play, this is a must have app!
A lot of educational memory games for toddlers and young kids!!
Your child will admire every kind of bug and will hear funny sound effects of nature !
Ideal for children but also fun for adults who want to play with their kids!
This app is a memory trainer for all the family ! A fun brain training app for kids!
Are you ready to challenge your memory ? Match up the insect pairs!
Worms and Bugs for Toddlers and Kids is a funny memory game which also helps your kid training his memory ability.
A lot of game for children, the best games for kids, apps for babies, games for girls, match game, puzzle for 3 year old,
educational games, all from romeLab !
Key features
high quality game for toddlers and preschool kids from ages 0 to 7 years old with colorful insects !

fun for children of all ages, babies, preschoolers, school children and pre-teens, designed for preschool boys and girls

Simple for toddlers and babies with different levels of difficulty

Toddlers develop their fine motor skills and improve their memory

Play with your child or let him play alone

use it to keep your baby or toddler occupied

more than 100 funny insects in this FULL version: ladybug, bee, ant, caterpillar, mosquito, butterfly, wasp, hornet, grasshopper, locust, spider, firefly, dragonfly, scorpion, mantis, snail, moth, fly and other !

randomly generated memory games! this educational game will never get old!

Does not require internet connection!

Does not contain Advertising!