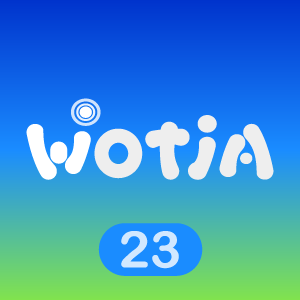 Wotja: Generative Music System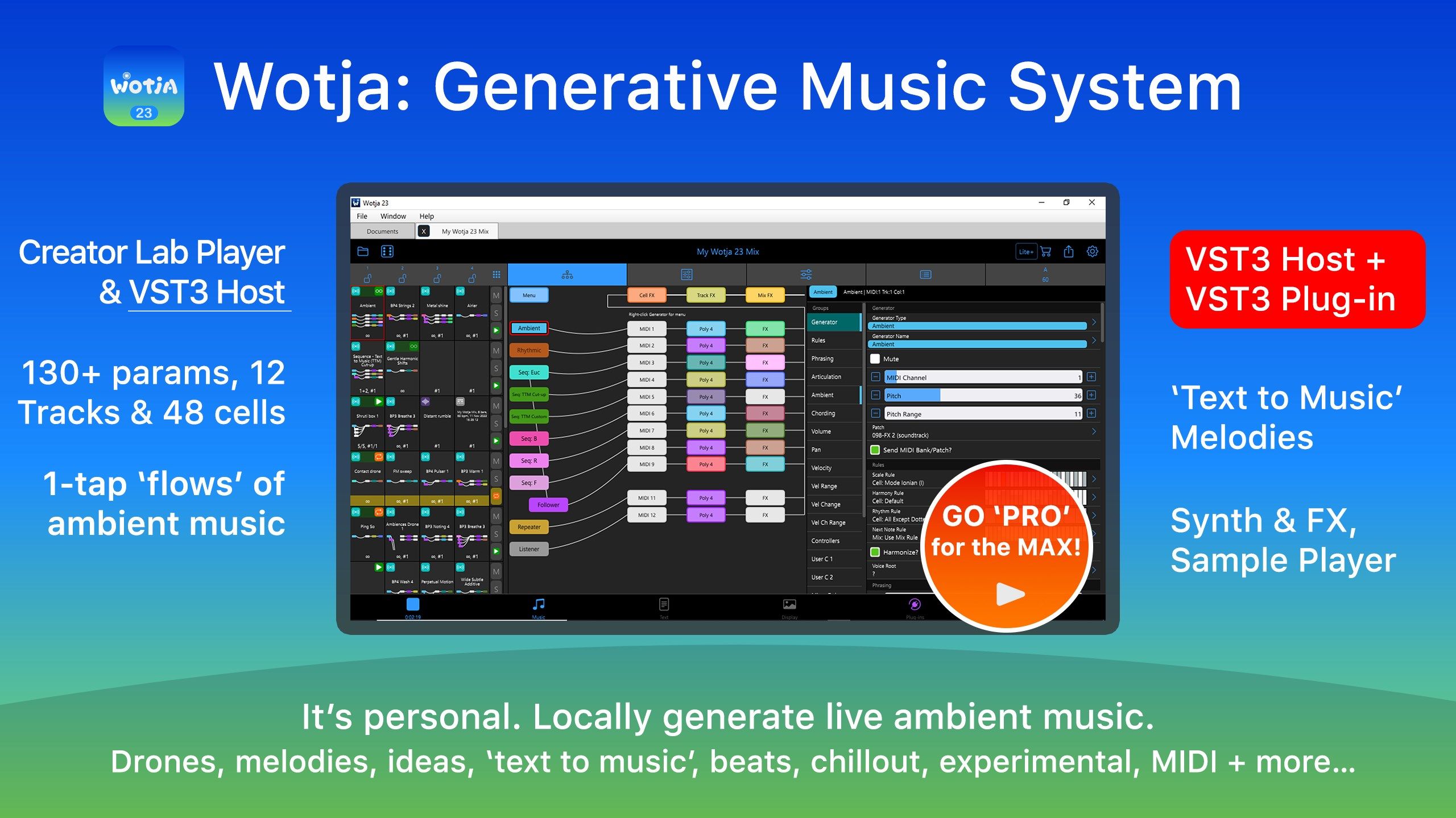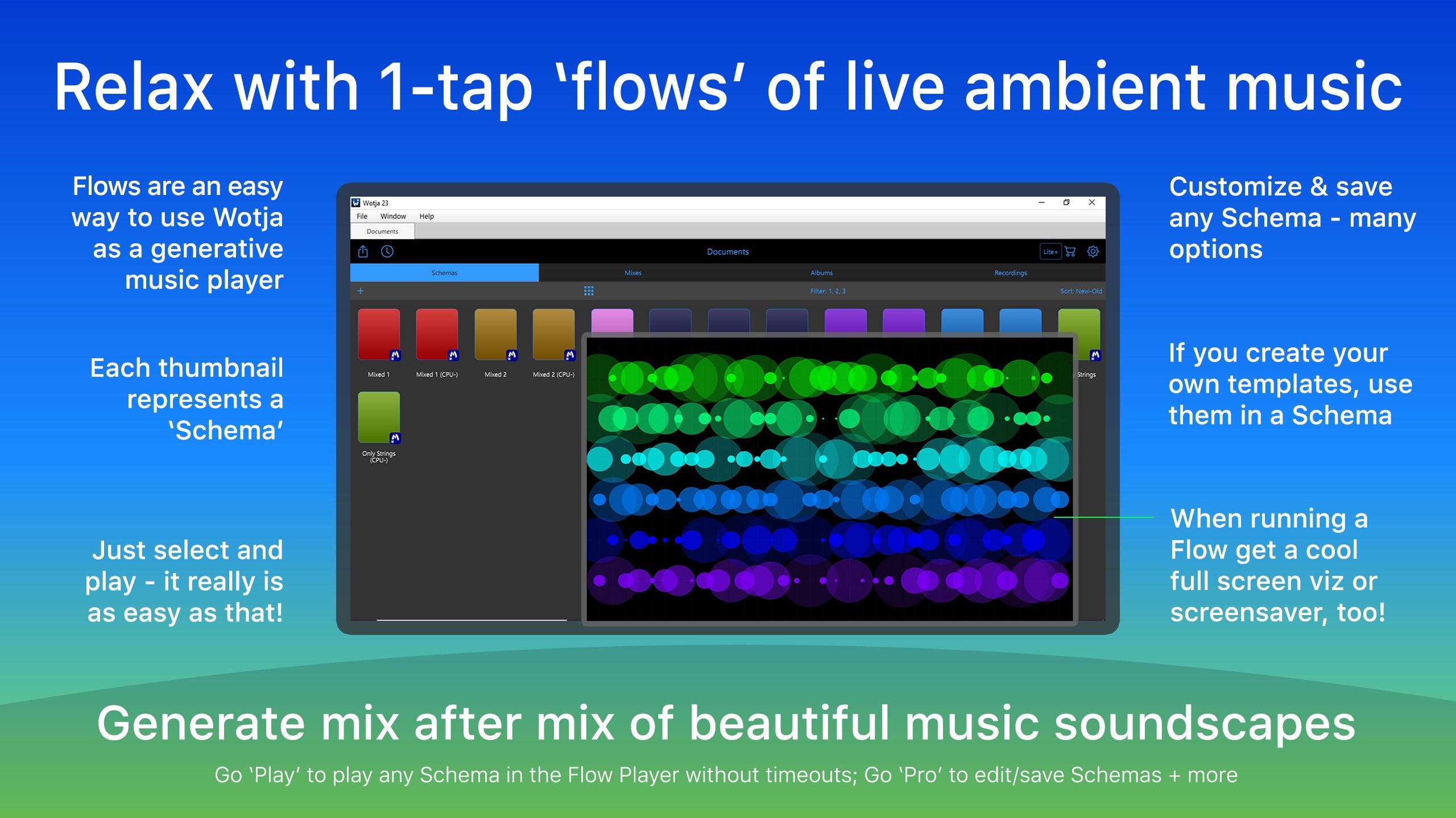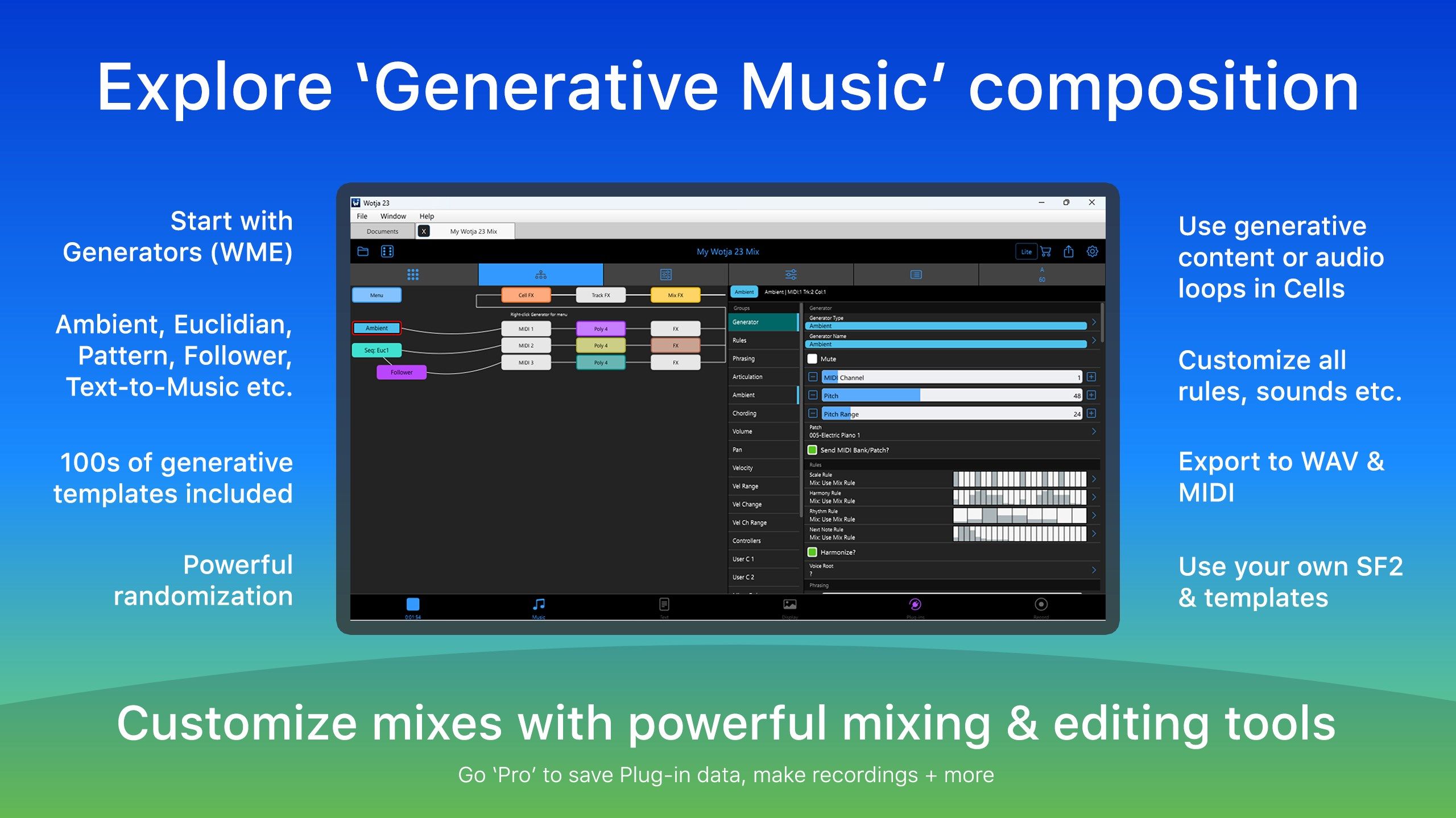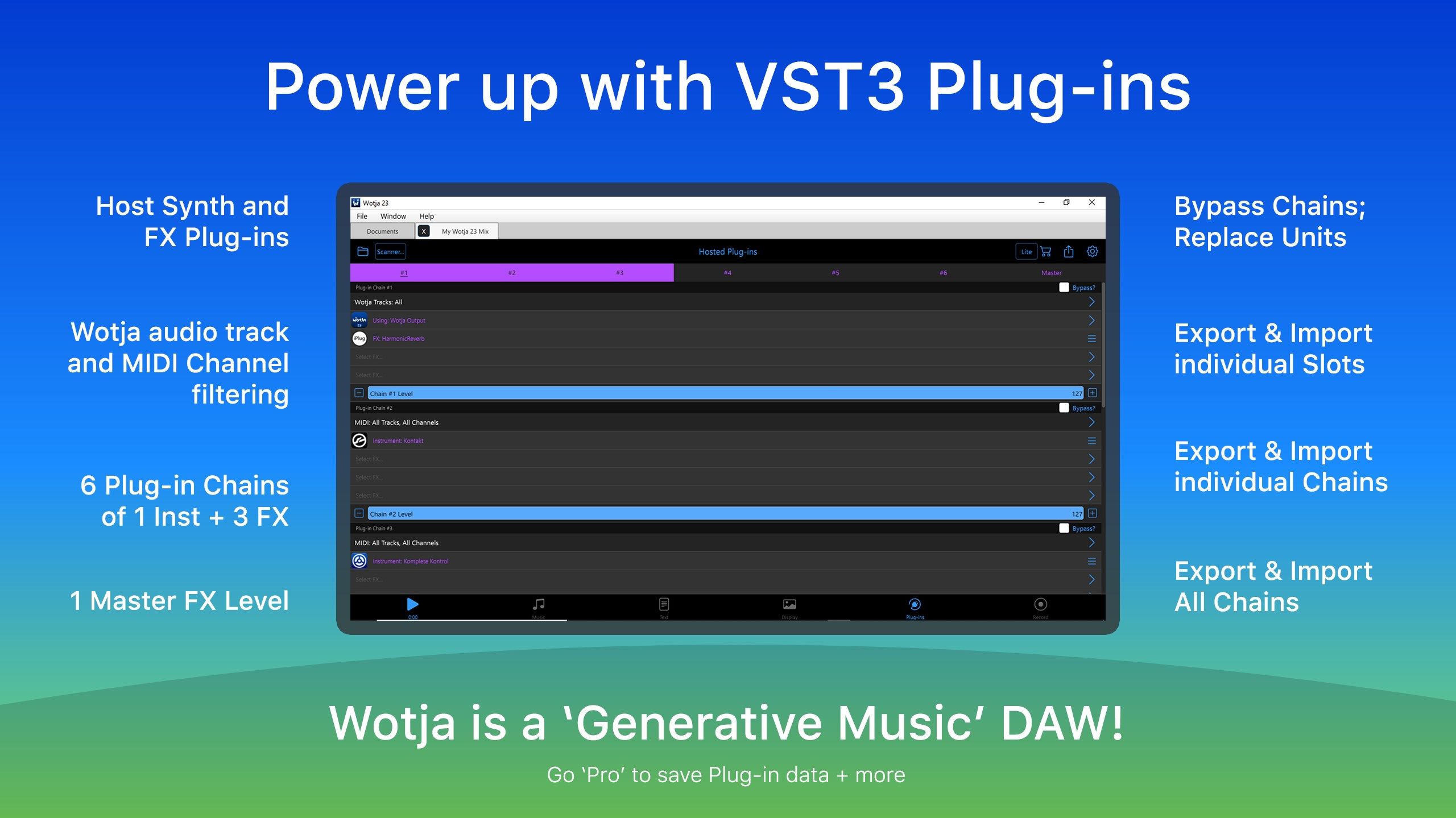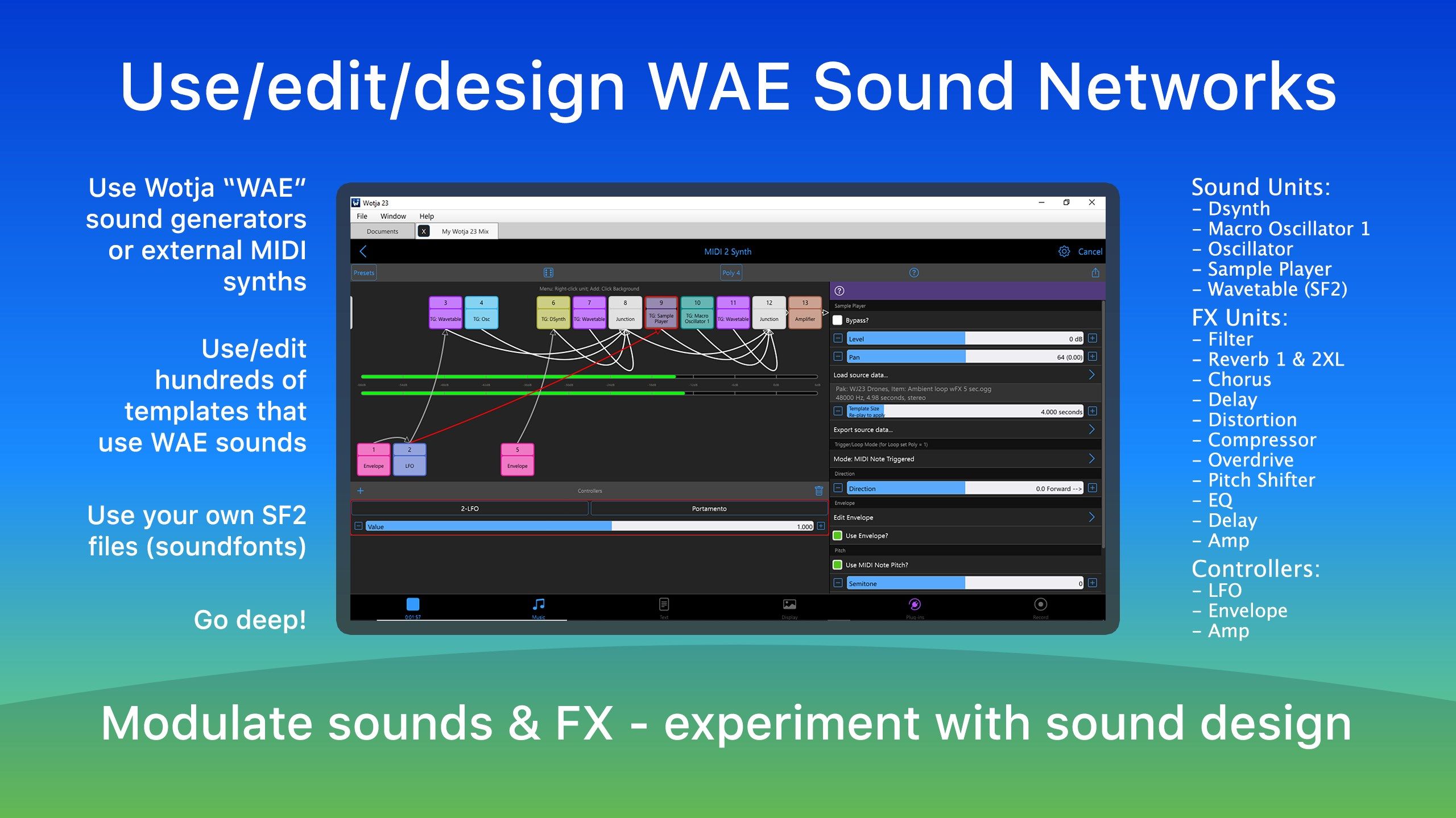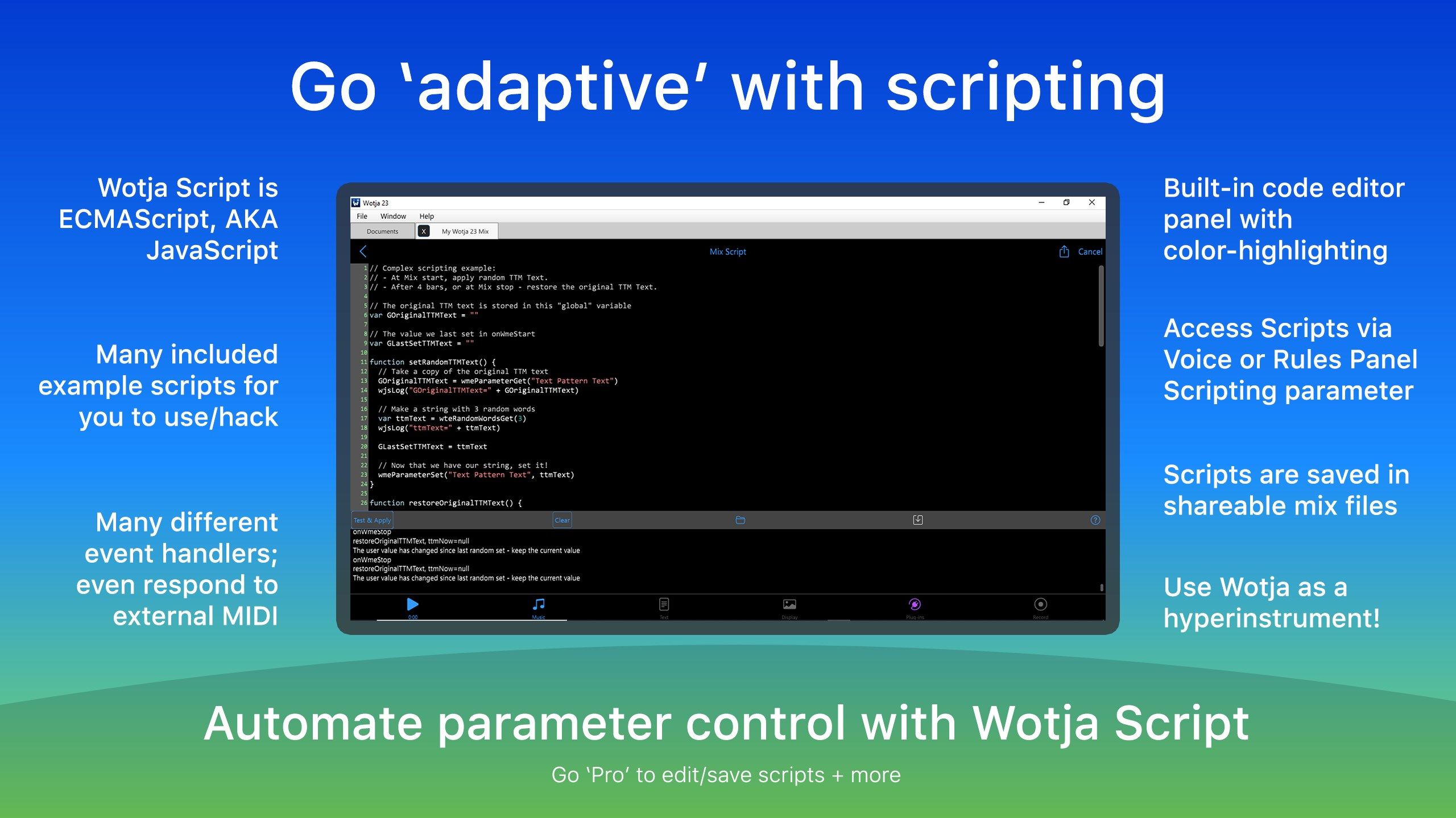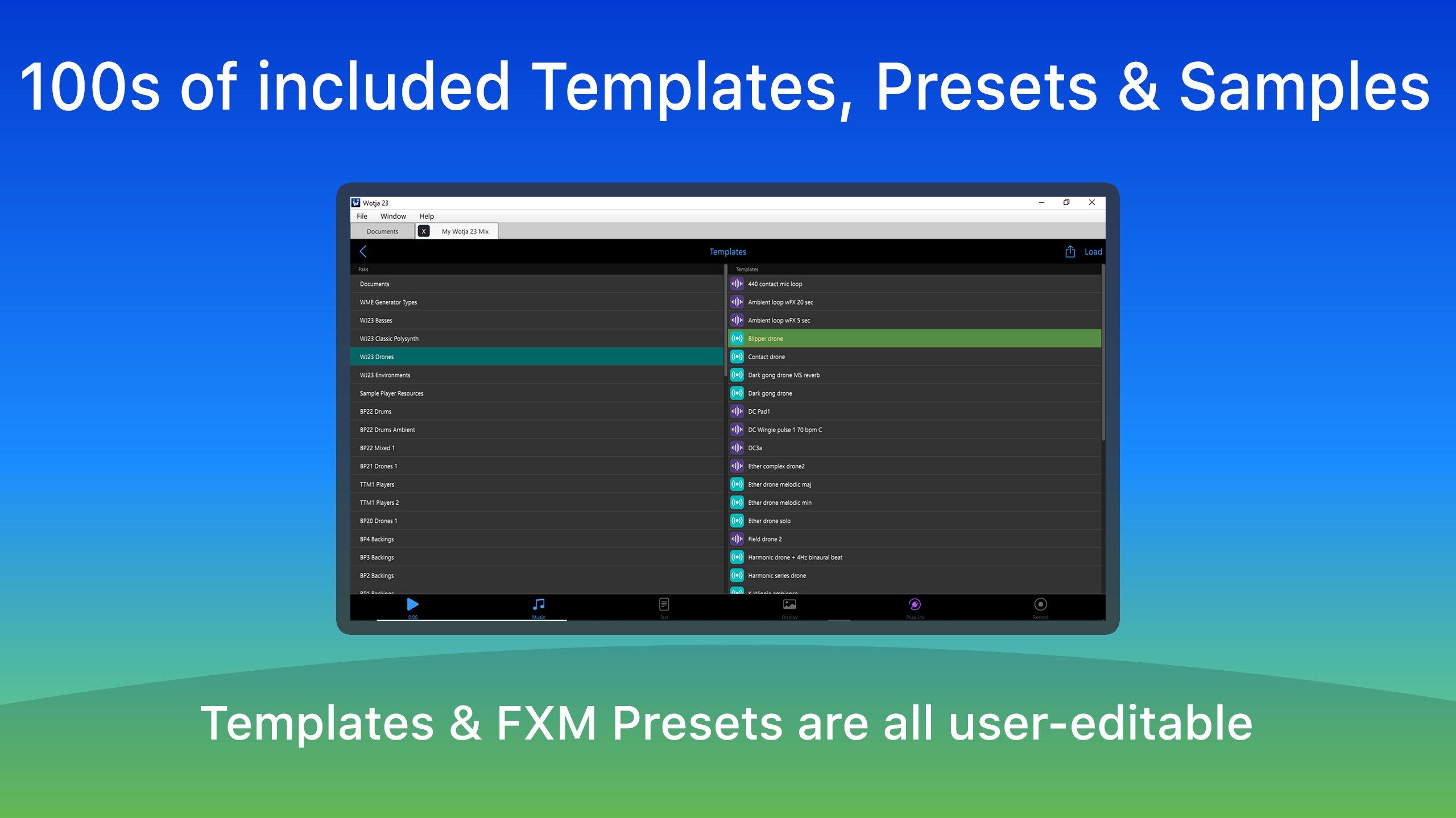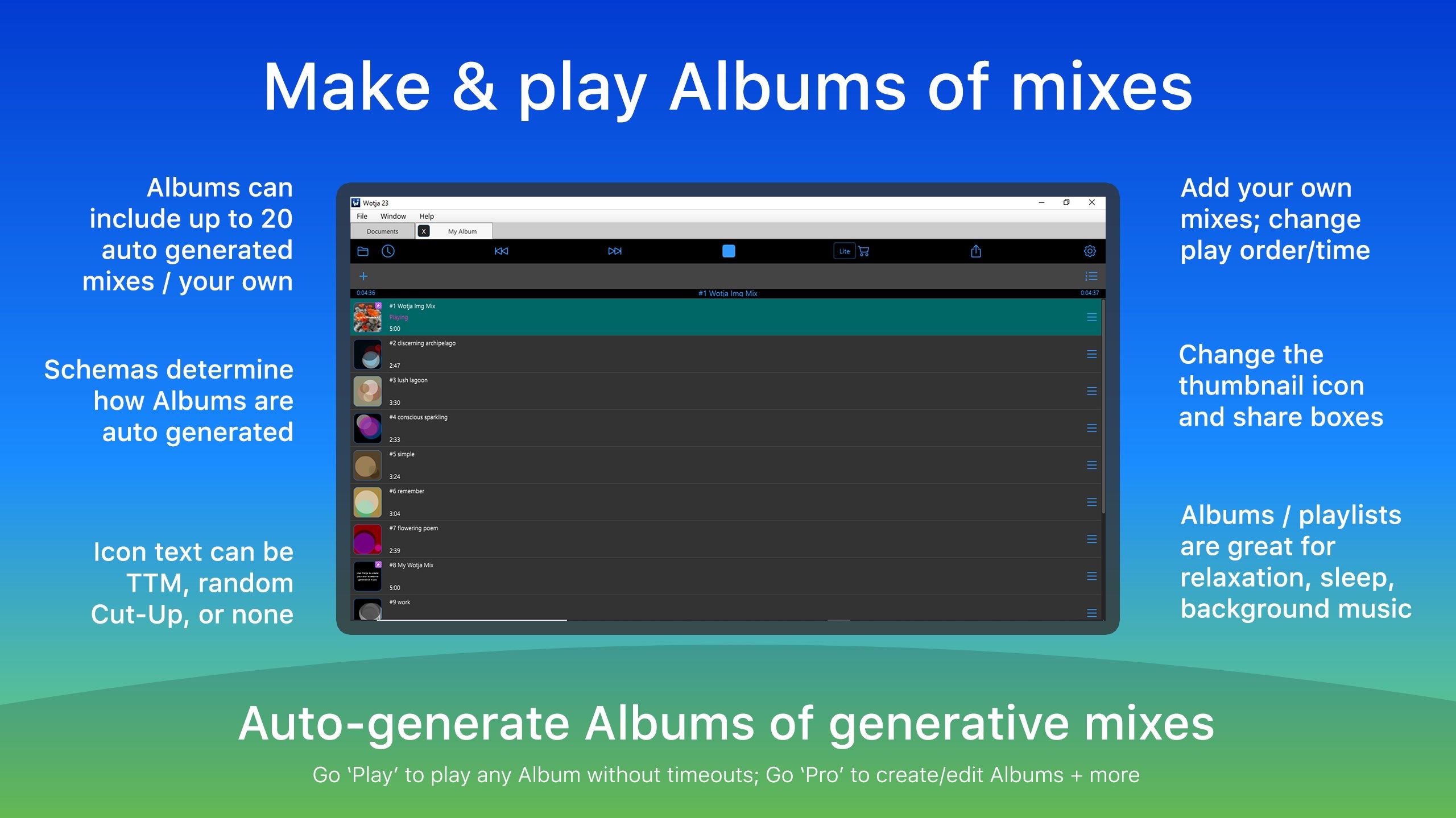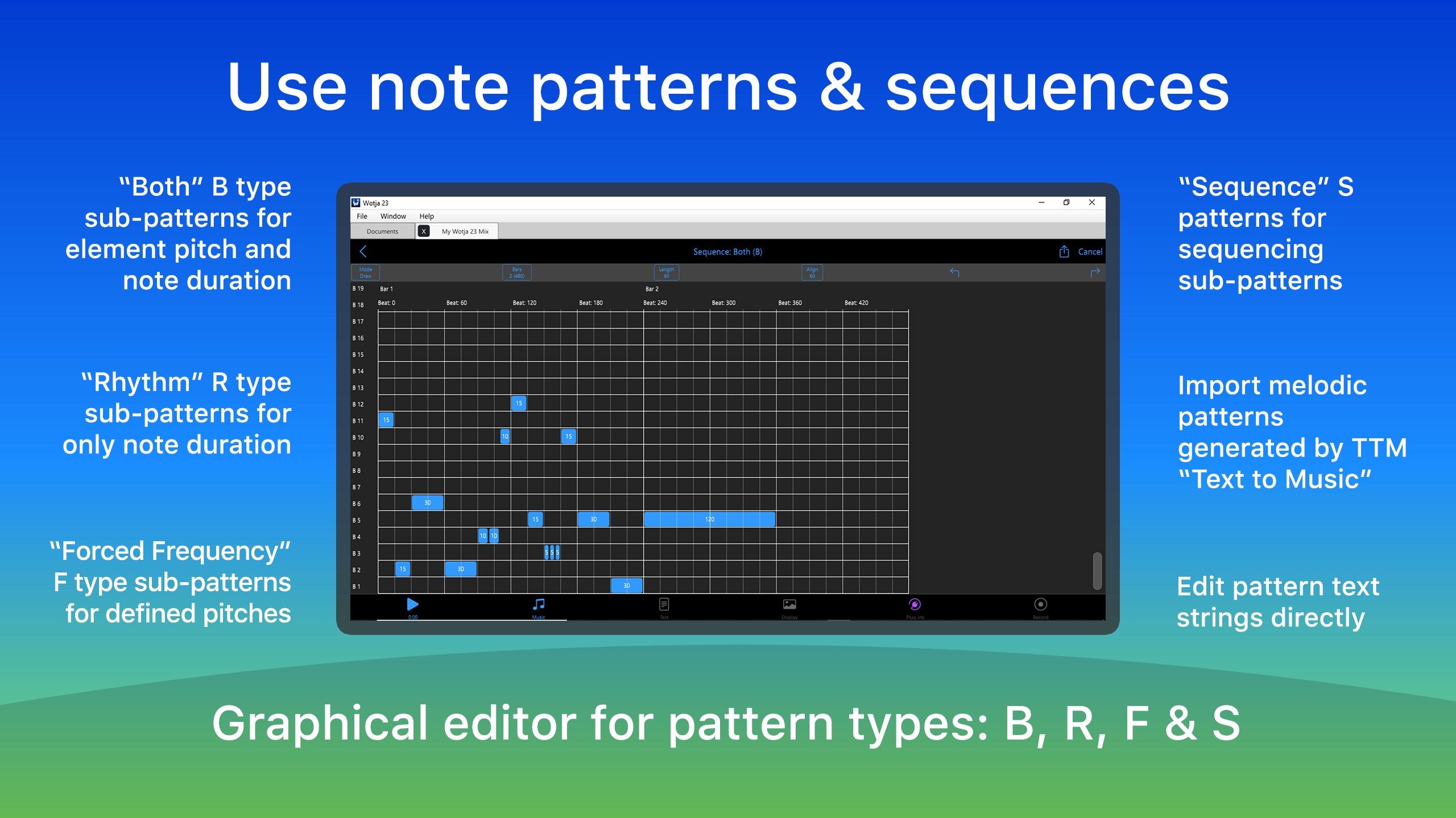 About Wotja: Generative Music System
Wotja is a powerful & free Generative Music System. Use it to locally CREATE beautiful ambient music, MIDI, text & ideas, to EXPERIMENT, or to RELAX with 1-tap 'flows'. It's also an VST3 Host App/Plug-in! Go 'Pro' to do the max.
NEW IN WOTJA 23 ('W23')
• WAE Sample Player Unit (poly, looping, reverse, MIDI triggered/pitch, samples saved to mix)
• LFO Unit Euclidian option
• Filter Unit 2/4-pole options
• SF2, Templates & Samples
• One app bundle (w/ rolling updates)
• Many UI improvements
• Much more!
GENERATIVE MUSIC CREATOR
Love to create? Easily make ambient music, soundscapes, drones, melodies, ideas, MIDI, beats, cut-up text etc.
GENERATIVE MUSIC LAB
Enjoy exploring & learning? Deep dive into generative MIDI composition, text-to-music, sound design, experimental music etc.
GENERATIVE MUSIC PLAYER
Want to relax? Start a 1-tap 'flow' for mix-after-mix of live relaxing music. No internet connection needed.
GENERATIVE MUSIC PLUG-IN HOST (DAW)
The Wotja App supports VST3 Plug-in hosting!
GENERATIVE MUSIC PLUG-IN
The App bundle includes the Wotja VST3 Plug-in.
APP BUNDLE INCLUDES
• App
• VST3 Plug-in
GET STARTED FAST
See the Tutorials on wotja.com.
WOTJA USER REVIEWS
"Must Have Generative App", "Total game changer", "You Need this in Your Life", "Inspirational", "Unique" etc.
WOTJA 30+ YEAR HISTORY
SSEYO Koan (1990-02), built by the Intermorphic founders, generated what came to be known as 'Generative Music'. Wotja is its evolution.
=+=
WOTJA
Ad-free & gets rolling updates.
INCLUDED Feature Sets (FS)
• 'Lite' (Default): Auto-timeouts; MIDI Ch1 Out/In only; restrictions wrt mix files, schema editing etc.
• 'Play'/'23 Play' [see OTB]: As 'Lite', but with no timeouts in Albums or Schemas.
• 'Pro'/'23 Pro' [see OTB]: ALL 'Lite' restrictions unlocked; Recordings licensed for Commercial Use (see EULA).
One Time Buy (OTB): 23 Feature Set (FS)
• 23 Pro All
• 23 Play All
OTB Info:
• Purchase of a OTB allows you to permanently unlock that Feature Set (FS) in all relevant (W23.2 or later) Wotja Apps & Plug-ins installed under your App Store User ID.
• A '23' OTB will NOT unlock NEW features, capabilities & content we might add in a future major version update e.g. Wotja 24. To unlock them purchase the required OTB as available at the time e.g. a '24' OTB.
=+=
KEY FEATURES
• 100s of editable generative music templates & Sound/FX presets
• 48 interdependent Cells in 12 tracks for live mixing/sequencing
• 'Flow' player for a succession of unique auto-generated mixes
• Wotja Music Engine (WME) with 130+ parameters (including 'Text to Music' [TTM] & Euclidian) for generative (MIDI) music generation
• Wotja Audio Engine (WAE) with Sample Player, 'Macro Oscillator 1', Reverb 2XL, Pitch Shifter plus many other synth & FX units
• Wotja Text Engine (WTE) for creating 'cut-up' text with word locking, syllable rules, 5 source fields
• Wotja Visual Engine (WVE) for visualizer, screensaver, camera background + mini games
• Wotja Script Engine (WSE) [ECMAScript AKA JavaScript] for programmatic control of parameters & adaptive music
• Includes many IM SF2 Soundfonts e.g.: Birds, Brush Kit, Drums, Environments, E-Perc, Hand Perc, E-Piano, Piano, Synths etc.
• App VST3 Plug-in Hosting
• Supports:
Sleep timer
MIDI Out/In
Recording to WAV & MIDI
NOTES
1: EULA: https://wotja.com/23/legal/eula/
=+=
FEEDBACK
Wotja not working right? Use our 'Contact Us' webpage to let us know!
Key features
Wotja is a powerful & free Generative Music System. Use it to locally CREATE ambient music, MIDI, text & ideas, to EXPERIMENT, or to RELAX with 1-tap 'flows'. It's also an VST3 Host App/Plug-in!

GENERATIVE MUSIC CREATOR: Love to create? Easily make ambient music, soundscapes, drones, melodies, ideas, MIDI, beats, cut-up text etc.

GENERATIVE MUSIC PLAYER: Want to relax? Start a 1-tap 'flow' for mix-after-mix of live relaxing music. No internet connection is needed.

GENERATIVE MUSIC LAB: Enjoy exploring & learning? Deep dive into generative MIDI composition, text-to-music, sound design, experimental music etc.

GENERATIVE MUSIC PLUG-IN HOST (DAW): The Wotja App supports VST3 Plug-in hosting!

GENERATIVE MUSIC PLUG-IN: The App bundle includes the Wotja VST3 Plug-in.

Wotja User Reviews: "Must Have Generative App", "Total game changer", "You Need this in Your Life", "Inspirational", "Unique" etc.

Wotja 30+ yr history: SSEYO Koan (1990-02), built by the Intermorphic founders, generated what came to be known as 'Generative Music'. Wotja is its evolution.

INCLUDED Feature Sets are as follows:

• 'Lite' (Default): Auto-timeouts; MIDI Ch1 Out/In only; restrictions wrt mix files, schema editing etc.

• 'Play'/'23 Play' [see OTB]: As 'Lite', but with no timeouts in Albums or Schemas.

• 'Pro'/'23 Pro' [see OTB]: ALL 'Lite' restrictions unlocked; Recordings licensed for Commercial Use (see EULA).

• Purchase of a One Time Buy (OTB) allows you to permanently unlock that Feature Set (FS) in all relevant (W23.2 or later) Wotja Apps & Plug-ins installed under your App Store User ID.

• A '23' OTB will *NOT* unlock *_NEW_ features, capabilities & content* we might add in a future *major version update* e.g. Wotja 24. To unlock them purchase the required OTB available at the time.

Get started fast - check out our quick Tutorials: https://wotja.com/23/tutorials/

See FS (Feature Set) for a summary of key features: https://wotja.com/23/info/#fst

See User Guide for full details on Wotja: https://wotja.com/23/guide/